'90 Day Fiancé: Happily Ever After?': Where Each Couple Stands After Season 7 Finale (RECAP)
Tell All: No Limits Part 4
Season 7 • Episode 21
[Warning: The below contains MAJOR spoilers for 90 Day Fiancé: Happily Ever After? Season 7 Episode 21 "Tell All Part Four."]
After 20 weeks of seemingly non-stop drama, Season 7 of 90 Day Fiancé: Happily Ever After? concludes on a surprisingly upbeat note — for some of the couples, anyway. For others, well, you'll want keep reading to see where they each stand after the season finale and conclusion of the Tell All.
Kimberly and Usman
The episode opens in Lagos, Nigeria, where Usman and Michael make peace over Usman antagonizing Angela. Usman won't attack unless attacked, he promises.
Back in New York City, Kimberly insists that she and Usman are really over and she doesn't want to date anyone right now. She'll keep talking to him as a friend until he finds a wife, then she'll cut him off altogether.
Offstage, Angela tells her that she thinks Kimberly may not really be done with Usman in the long run. Kimberly counters that Angela may not be done with Michael either, leading Angela to laugh and say, "I can't stand this bitch!"
Angela and Michael
As Angela gets ready to get in a car that's bound for the airport, she shares some final thoughts about her future with Michael with the cameras. "I don't think he ever loved me," she says sadly. "Right now, divorce is definitely on the table."
Michael is on the verge of finally getting his visa, and Angela still hasn't made any final decisions. These two have been married long distance for five years, and anything can happen. "I'm definitely gonna file," she says. "That doesn't mean I'm gonna sign."
Big Ed and Liz
Big Ed has business in Boston after the Tell All wraps. Liz was originally going to go with him, but since they broke up on stage, Big Ed decides to text her and a producer to say that she won't be accompanying him and to book her a ticket back to San Diego.
While packing in his hotel room, Big Ed pulls out Liz's engagement ring. "I didn't want to ask for the ring back," he says to the cameras, "but it's $13,000. Maybe I'll give it to my daughter."
As she's leaving the hotel, Liz says she's looking forward to focusing on herself. She swears that this is the last breakup, but Big Ed's recent Instagram post may suggest otherwise.
Jenny and Sumit
In the last episode, Sumit's father blessed his marriage with Jenny, though he admitted that his wife would never be on the same page. Still, it's a huge breakthrough that Jenny isn't taking for granted. Their story wasn't revisited in this episode, but she did tell off Big Ed for insulting everyone on stage. That incited a back and forth where Big Ed was so rude to Jenny that Jovi later insisted that Big Ed apologize for his behavior.
Elizabeth and Andrei
Likewise, Libby and Andrei's story wrapped up in the previous episode, and she went on to have a healthy baby boy named Winston Leo Castravet. At the conclusion of the Tell All, Angela joked to Andrei that maybe she'd move to Florida and date Libby's father Chuck. That could be a whole entire spinoff, TLC!
Jovi and Yara
Yara still hates living in Louisiana and wants to move. Jovi says he is leaning towards Florida, but his mother Gwen joins remotely and drops a bombshell. She and Jovi's dad have just purchased land near where Jovi and Yara live in order to build a house and be near them to help with their daughter Mylah. Yara says Gwen should just relax, because they'll probably move by the beach in Florida and she can come visit as long as she wants.
Host Shawn Robinson asks about their plans for a second baby. Jovi is still raring to go, but Yara still isn't ready yet, especially if they're going to move away from Mylah's grandparents.
Jovi and Yara argue on the way out of the hotel, but they still leave together.
Bilal and Shaeeda
They may have been the couple that seemed constantly at odds throughout the season (and the one before it), but Bilal and Shaeeda are leaving the Tell All feeling closer than ever. In the last episode, he got down on one knee and formally asked her to have a baby, and to get started tonight.
Later, rose petals greet Shaeeda when she opens the door of their hotel room. "We had a long day, baby," he tells her. "Ready to have a long night?"
90 Day fans don't have to wait long for the next fix: 90 Day Fiancé: The Other Way premieres January 29 on TLC and discovery+.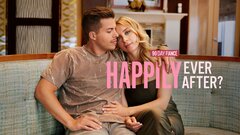 Powered by