'Married at First Sight': 6 Key Moments From 'Music City Matrimony' (RECAP)
Music City Matrimony
Season 16 • Episode 3
[Warning: The below contains MAJOR spoilers for Married at First Sight, Season 16, Episode 3, "Music City Matrimony."]
Lifetime's Married at First Sight has reached the point in which all of the couples have said, "I do," and are officially in the process of getting to know one another in "Music City Matrimony.
The episode wraps up the wedding ceremonies and delves into the receptions, meet-ups between families and friends, and the next phase of the social experiment process. Below, we're breaking down all of the key details from the installment but beware of spoilers ahead.
Jasmine & Airris
Despite reservations from his cousin Fallina, Airris takes his spot at the end of the aisle in time for Jasmine to walk down and meet him. They both smile as they take the sight of each other in. While prepared notes from their families reveal Airris's problem with communication, and the protective nature of Jasmine's sisters, the pair only have eyes for each other. Reciting their vows and exchanging "I dos," the new couple capped off the ceremony with a traditional kiss before retreating from the altar for a quiet conversation together. While the vibes are mostly good, Airris grows concerned when Jasmine brings up that she has multiple dogs at her house because she breeds golden doodles. When it comes to Jasmine, she worries about his potential "only child syndrome" since Airris doesn't have siblings. These seem like small hurdles though for a duo who have hit it off quite early on.
Domynique & Mackinley
Capping off Season 16's weddings are Domynique and Mackinley who prepare for their ceremony with friends and family. While Domynique's family and friends are nervous for her, Mackinley is nervous he wasn't specific enough about his dream girl, a worry that soon fades once he eventually sees his bride. As the final preparations are made, Domynique dons some sparkly boots to fit the Nashville vibe before taking the big leap of faith in marrying a stranger. After Domynique and Mackinley exchange vows, rings, and "I dos," they share a kiss that he asks permission for. Once they have a moment alone together, Mackinley and Domynique discuss how long they've been in Nashville and he admits he came here to find love, and worries he's too old for her as a 34-year-old man while she's just 25. Domynique reassures her new husband she wanted and older and more mature man by her side.
Photo Call

Now that all five pairs have committed to the experience of being married at first sight, it's time for photo sessions with friends and family which can be a bit awkward, but they all seem to take the task in stride. Nicole worries aloud if she's touching Chris too much, but he promises her it's okay with him. As for Mackinley and Domynique, it's a bit strained at first, but ultimately they warm up to one another with her admitting that she finds her husband handsome.
Reception Celebrations

The receptions kick off next as the pairs continue to talk and go through the traditional proceedings of the evening. Clint and Gina speculate about where the honeymoon will be, predicting a potential stint in the Bahamas. This leads her to ask if he can sail there and Clint reassures Gina he can sail anywhere. Airris and Jasmine say grace before digging into their food as they discuss what their day-to-day schedules usually look like. As they converse longer, he becomes more concerned as she reveals she's caring for nine puppies on top of the four dogs she already has. Meanwhile, Kirsten and Shaquille build a rapport by joking about food and drinks. When attendees clink their glasses to indicate they should kiss, they avoid it as she didn't kiss him at the altar and Shaquille doesn't want to pressure Kirsten.
As for Nicole and Chris, they both talk a lot which she thinks is good, but they need to find a groove before it's smooth sailing on that front. While the party continues, friends and family give speeches, there's cake cutting, bouquet tosses, and garter retrievals. During that moment, Shaquille gets bold and gives his new bride a little lap dance. But does it impress?
Considering the subject, friends ask the brides and grooms about the wedding night and it's pretty consistent across the board that the newlyweds want to wait before consummating for fear of ruining the foundations they're building. But you never really can tell until the moment arrives.
Interrogations
The usual grillings of newlyweds by friends and family of their new spouse also happen at the reception kicking off with Kirsten's bridesmaids who want Shaquille to prove himself. While everything he says is good, the girls admit they'll need to see these concepts in action before giving him their approval fully. Domynique chats with Mackinley's mother and sister who note that they wish he had a more traditional courtship, but they're supportive. Domynique brings up that she's most concerned about being accepted as a biracial woman and Mackinley's family tries to reassure her they do, but it feels a bit lukewarm as an outsider.
As for Mackinley, she chats with Domynique's mother who mentions the concern about race and acceptance into his white family, and he tries to reassure her that she'll always be accepted. Airris gets to know Jasmine's bridesmaids who admit she can be spotty with communication as she likes to avoid confrontation, but red flags are raised for them when Airris reveals he's never lived with a woman before. On the flipside, Airris's cousin Fallina shares her concerns along with his mother to Jasmine who is upfront about the fact that she can be stubborn sometimes but that she's ready for this latest commitment in her life. The answers are good, but Fallina doesn't trust it as she knows Jasmine's a pageant girl.
Gina's bridesmaids ask Clint what makes him worthy of her and she says he's learned from past experiences and is hopeful he has what it takes to build something long and enduring. As for the wedding night conversation, he says he's not in any rush to get into bed, admitting he wants to learn more about Gina before taking that step. Nicole chats with her bridesmaids about all the positives with Chris so far, while he gets grilled by her father. Ultimately, it will be actions that speak louder than words when it comes to winning the family over, but Chris is going to try.
Wedding Night
As the couples dance their way out of the ceremonies, to begin their first nights together, most feel optimistic about the future. Tired from a long day, Nicole and Chris are the first to get ready for bed, getting comfy in pajamas before jumping into the plush oasis where they share some kisses. Will things go further? Or will it be a tame first night for the duo? Stay tuned to find out when Married at First Sight returns next week on Lifetime.
Married at First Sight, Season 16, Wednesdays, 8/7c, Lifetime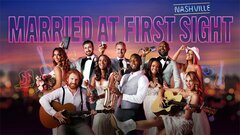 Powered by