'SEAL Team' Renewed for Season 7 at Paramount+
We'll get to see the fallout of that Season 6 finale cliffhanger.
Paramount+ has renewed SEAL Team for its seventh season. This news comes about two months after the aforementioned sixth season of the military drama ended.
"We look forward to bringing SEAL Team fans even more of the series' poignant storylines and thrilling missions with the upcoming seventh season," said Tanya Giles, chief programming officer of Paramount Streaming, in a statement. "The series continues to evolve and grow its audience. It is a great example of the types of programming that we see resonate with our subscribers."
SEAL Team follows the professional and personal lives of the most elite unit of Navy SEALs, as they train, plan, and execute the most dangerous, high-stakes missions our country can ask of them. David Boreanaz stars as Bravo 1, Jason Hayes, alongside Neil Brown Jr. (Ray Perry), A.J. Buckley (Sonny Quinn), Toni Trucks (Lisa Davis), and Raffi Barsoumian (Omar).
Season 6 ended with Jason speaking publicly about his TBI then facing command — only to be joined by Ray, the rest of Bravo, and other SEALs sharing their own struggles.
"They are once again in jeopardy but most importantly united, and when Bravo steps up for each other, they usually get themselves out of these situations," showrunner Spencer Hudnut told TV Insider. "What [that ending] does is it kind of tips everything on its head a little bit. But at end of the day, these guys operating, these guys being out in the field is usually the engine of the show. It's really, can they get back to that?"
Season 6 also saw Max Thieriot exit the series due to his commitments to Fire Country (which has already been renewed); Clay Spenser was killed, while trying to help a vet. Chances are that was the last time we'll see Thieriot, though Hudnut didn't completely rule out flashbacks featuring Clay in Season 7.
"We've done things like that in the past. I just think part of this decision was that just to finish Max's work this season was such a struggle," he explained. "The idea of being able to plan ahead and figure that out just seems hard, but we'll never say no to anything. Clay's legacy will live on within the show. And yeah, if there's an opportunity where we could do something like that, I'd be all for it because he's such a huge part of the show."
The military drama is produced by CBS Studios and executive produced by Hudnut, Christopher Chulack, Sarah Timberman, Carl Beverly, Mark Owen, and Boreanaz.
SEAL Team, Season 7, TBA, Paramount+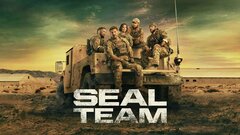 Powered by