Roush Review: Full Hearts, Wet Eyes in 'Shrinking'
Laughing through tears is a skill set that Jason Segel (How I Met Your Mother) masters with endearing sheepishness in the Apple TV+ comedy Shrinking, a touching experiment in blending raw sentiment with wry irony. There are echoes of Ricky Gervais' After Life and Walton Goggins as CBS' The Unicorn in this story of a widowed therapist whose unyielding grief leads him to become something of a "psychological vigilante."
Working with cocreators Bill Lawrence (Scrubs) and Brett "Roy Kent" Goldstein of Ted Lasso fame, Segel plays Jimmy Laird, whose hangdog face is incapable of hiding his roiling feelings. He doesn't mince words when urging one client (Saturday Night Live's Heidi Gardner) to leave her abusive husband—"or I'm done being your therapist," he blurts with a childish pout. Later, he seemingly crosses the line between doctor and patient when he invites Sean (the fine Luke Tennie), a military vet with PTSD anger issues, to move into his Pasadena pool house.
One person who isn't amused by Jimmy's meltdown is the great Harrison Ford (also killing it in the Paramount+ Western 1923) as Paul, his gruff (tor)mentor of a boss, who's struggling with his own issues of illness and family estrangement. A master of deadpan derision ("I'm pro boundaries"), Paul has established a tenderly melancholy and avuncular rapport with Jimmy's exasperated teenage daughter Alice (Lukita Maxwell), who can't yet forgive her dad for pulling away from her in a self-indulgent haze of boozy behavior. To be fair, he can't quite forgive himself, either.
Related
Also orbiting Jimmy's fractious world, offering superb ensemble support: Christa Miller as Liz, the sardonic neighbor who has taken Alice under her meddling wing (in a smaller but key role, sitcom vet Ted McGinley is Liz's sweet-natured, oft-ignored hubby); Jessica Williams as Gabby, the therapy office's funky free spirit; and the irrepressible Michael Urie as Brian, his lawyer best friend, who barges back into Jimmy's life after being ghosted for the last year. He's a hoot, but you can understand why someone who's grieving might want distance from a guy whose cheery catchphrase is "Everything goes my way." They all add comically quirky yet compassionate shadings to a show whose heart is anything but shrunken.
Throughout, Shrinking has such affection for its flawed and funny characters that you may even yearn for extra sessions.
Shrinking, Series Premiere (Two Episodes), Friday, January 27, Apple TV+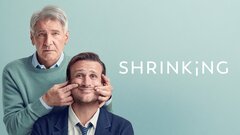 Powered by