'The Legend of Vox Machina' Stars Spill on Their Fave Baddies, Best Costumes & More (VIDEO)
The cast of The Legend of Vox Machina has come up against a lot of obstacles in both their regularly streamed Critical Role campaign and their acclaimed Prime Video series (the second season of which debuts January 20). And in a Just Asking segment for TV Insider, they got real about their biggest choices yet: their favorite costumes, which "Big Bad" they prefer, and of course, the important stuff: like who has the best dice collection in the group.
"I'm going to say probably me," declares game master Matthew Mercer. "Because I still have dice from high school when I first played in the '90s as well as dice that are carved from mammoth bone, dice that are made from ancient petrified wood, dice that are made from petrified dinosaur poop…all sort of odd unique things."
"Bailey has got a huge collection," adds Ashley Johnson, who plays cleric gnome Pike Trickfoot, referencing fellow cast member Laura Bailey who plays half-elf Vex'ahlia and is known among fans for having a pretty fantastic hoard. "But I feel like we all might be partial to our own dice. Because I feel like my dice are the best dice!"
As for a preference between the antagonists from the first season of The Legend of Vox Machina (the evil power couple Delilah and Sylas Briarwood) or the second season (a band of dragons known as the Chroma Conclave)? The results were mixed between dragons (Mercer, Johnson, and Sam Riegel, who plays bard Scanlan Shorthalt) and Briarwoods — "because they're so hot," says Marisha Ray, who plays Keyleth of the Air Ashari.
But not everyone could make the tough choice. Taliesin Jaffe, who plays gunslinger Percy, chose "Briarwoods riding dragons" and Travis Willingham, who plays barbarian Grog Strongjaw, had a similar answer.
"I'm going to go with Briar-gons…or Drair-woods."
See the rest of their fun answers in the video, above, and don't miss Season 2 of The Legend of Vox Machina on Prime Video.
The Legend of Vox Machina, Season 2 Premiere, Friday, January 20, Prime Video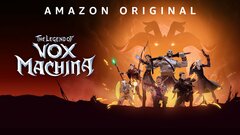 Powered by