'Sister Wives': Robyn Shares Thoughts on Kody Having More Wives
Robyn Brown is the last wife standing of the once polygamous Brown family, as family patriarch Kody Brown has gone through three break-ups over the past year, essentially leaving him in a monogamous marriage.
It's not the kind of marriage Robyn envisioned for herself, but the Sister Wives star also said it would "feel disrespectful" to bring in new wives. Robyn opened up about the situation and her future during Sunday's (January 8) final Sister Wives: One on One special.
Robyn told host Sukanya Krishnan that even though she could see herself asking Kody to "try this again," she is "scared" due to how badly things have gone. In November 2021, Christine Brown was the first of Kody's wives to announce their separation; it was then revealed in the recent One on One specials that Meri Brown and Janelle Brown have also ended their relationships with Kody.
"I really, really struggle with it because it feels, like, 'Oh, well. Those didn't work. So, on to [someone] new,'" Robyn said on Sunday's episode of the TLC series. "That's hard for me. That's really, really hard for me. It feels disrespectful." (via People)
Robyn has previously said she always wanted a "big plural family," so the idea of living a monogamous life with Kody is something she is struggling with. "I don't know what to do with it. It's messing with my identity," she told Krishnan before breaking down into tears.
"It's not the future I wanted," she added. "I want that house with us on the porch in the rocking chairs with our grandkids and our kids around us. You know, the grandparent ranch. That's what I want… I don't know how to let it go."
As for Kody, he looks like he might be putting polygamy behind him, as he confessed he is "right on the verge of not even being a polygamist" due to how things ended with Christine, Meri, and Janelle.
Sister Wives, Sundays, 10/9c, TLC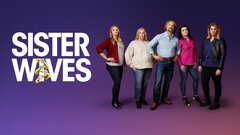 Powered by