'Law & Order: Organized Crime': Brent Antonello Teases Jamie & Stabler Altercation in Next Arc
[Warning: The below contains MAJOR spoilers for Law & Order: Organized Crime Season 3 Episode 10 "Trap."]
Detective Jamie Whelan's (Brent Antonello) first undercover op, of course, goes sideways.
Law & Order: Organized Crime's winter premiere introduces a new arc, one involving a gang based out of Miami looking to make a name for itself running drugs in New York; Jamie goes undercover as a driver, after they kidnap the wife of one of Detective Elliot Stabler's (Christopher Meloni) informants. But in the final moments, Jamie ditches the wire, then leaves the meeting point to go with the gang to another location — and also has to lose their tail (Rick Gonzalez's Detective Bobby Reyes and Ainsley Seiger's Detective Jet Slootmaekers, acting as his backup).
Antonello teases what's ahead for Jamie during this next arc.
Jamie's decision to ditch the wire was probably the right move, but doing so means he's completely out of contact with the others now. What made him do that? Will he regret it?
Brent Antonello: It's just, especially in those moments where he's by himself in that warehouse, all instinct. He's gotta ditch the wire because if they find it, they're gonna shoot him on the spot and he can't have that and the case needs to go on. But yeah, once he sees Sherie, I think that's all instinct. From this point on in that episode to the next episode and the next arc, it's all instinct and he has no idea. He can't talk to them now. They don't know where he's at now, and it's just get the job done the best way possible and we'll see what happens with that.
This is his first undercover op and it's like everything that could go wrong went wrong in the span of a couple minutes — he ditched the wire and then they're like, we're moving to another location.
Of course it couldn't be smooth sailing.
But how is he feeling at the end of the episode? Does he still feel as much in control as he can?
I would say he tries his best. I think the following episode, you'll start to see the way Jamie carries himself in these situations, little behaviors, if you will, of what he does to calm himself down that we haven't seen yet. But he definitely kicks it up a notch, knows the pressure of the situation, but doesn't panic. There's no room to panic because if you panic, it's over, you're dead or the victim's dead, and that's it. So he definitely bottles that pressure that he may feel but doesn't show it.
What is coming up next with this case?
We have two detectives that come in from Miami that try to help out the organization with [Deputy Inspector] Thurman's [James Roch] help. They're fond of Jamie, of what he's been doing with the case, but Stabler isn't really too fond of two detectives coming in and working the case with us, so there's kind of this little shift in energy going on. But they give Jamie some accolades for doing what he's doing and that's the acceptance that he wanted from Stabler and [Sergeant] Bell [Danielle Moné Truitt] that he didn't get. So he kind of shifts over a little bit and goes to the people that are praising him or saying, "hey, the reason why we're here is because of you, you helped us out." So it's that acceptance thing that he drives with and he's not getting it.
What does that mean about what we'll see with him undercover? Because it sounds like if he's getting that acceptance, he's more likely to take risks because taking a risk got him to that position.
Yeah, exactly. And then he gets knocked off the case, which is not what he wanted, especially in a certain way that Stabler performs it. Then we have that tension between Jamie and Stabler that you'll see, that whole, "you were like this in the past, why can't I do this? Is this a generational thing or what is it? Because you did exactly what I did and no one yelled at you for it. But it's kinda like you're being a hypocrite right now," which is great to play because we haven't seen Jamie and Stabler get into an altercation— an altercation that needs to happen, especially because of the Christmas episode. There's some tension between them.
There was a bit of talk about comparisons between Jamie and Stabler in this episode. Because of what's coming up, does that at all change how Jamie may view hearing those comparisons?
I don't think so, because he looks up to him for it. I think it's more so he's just hurt. He's hurt by not getting the acceptance. He's hurt by being knocked off the case a certain way. He thinks it's disrespectful. It's kind of like your hero just telling you, "you didn't perform well in the game, take it to the bench, sit on the bench, you're done." And Jamie doesn't take it well at all. So I think it's more so hurt that we're gonna see because there's this father figure-mentor relationship going on and it just really rubs him the wrong way.
What does that do for Jamie and Bell's dynamic?
It's very clear to her that he needs to be off the case. He's a wild card, he's gonna get killed, he'll get someone else killed. We're gonna ruin the case. He needs to sit down. But at that moment, Stabler is saying, "I get what you're saying, Bell, but he's doing what he's supposed to be doing," and that doesn't really give Stabler any room to talk because of that.
There's a lot of tension between the three of them in that episode of how he was taken off the case, how he should be on the case, how he should be ripped out of the investigation. So it's a cool dynamic. There's really, the next two episodes, a lot of things going on that we haven't really touched as far as relationships, action, and stuff like that, which is cool.
With those similarities between Jamie and Stabler, right now, Stabler is seeing a therapist. Might that be something Jamie should consider, especially after this undercover assignment?
It could. We could definitely go down that line. I know a few things that we're trying to pop up as far as Jamie's background and stuff like that. I could definitely see that happening. We'll find out. But I love that though. I love how we we're starting to dig into more and more people's background for all the characters. It's really cool to see.
What are we going to see about Jamie's background and his personal life?
I wish I could tell you because I know a few things that we could possibly [see]. We're kind of figuring out because it was such a quick — I wouldn't say casting, but to come into this show, we were finding ourselves, which is cool because we're playing in real time. So a lot of things have happened and changed and we've been trying to find the path.
But I think there's a lot of cool stuff down the pipe with everyone's characters where we'll finally get to see some background, some back history of why the characters are the way they are, and especially more diving into Bobby and Jamie, which has been fun to play and seeing that relationship. So I feel like everyone this season will get that moment or two where we really get to see their backstory.
It seems like Jamie and Bobby were just thrown into everything and there's all the history with the task force that they weren't part of…
Yeah. We'll see some stuff that'll be rewarding to play.
Law & Order: Organized Crime, Thursdays, 10/9c, NBC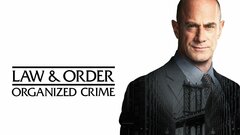 Powered by