'The Neighborhood': Will Calvin Embrace the Idea of a Second Honeymoon with Tina? (VIDEO)
Letting go of a work routine he's had for 30 years turns out to be anything but easy for Calvin Butler (Cedric the Entertainer) in the January 16 episode of CBS's The Neighborhood.
He should be putting his feet up after the substantial payday he got from selling his auto repair business, Calvin's Pit Stop. In the latest episode of the comedy, he tries to embrace a life of leisure, traveling to Madrid with wife Tina (Tichina Arnold) for the honeymoon they never had.
(See the clip above for how even boarding the flight doesn't go smoothly for Calvin!). Here, Cedric tells us more:
Easing into retirement shouldn't be so hard for Calvin, but it is. What's going on?
Cedric the Entertainer: It's one of those things where you realize you have worked hard and deserve the opportunity to get a win in life. And yet Calvin is still very nervous about feeling young enough to [question], "But now what?"
Who is pushing for the dream trip to Madrid?
It's more Tina. Calvin starts to fill his days up with menial tasks to give himself a number of excuses not to go on vacation. It's Tina's idea to say, "Come on now, you've done that. Just go."
Traveling can be stressful. Once they get on their way, how do things go?
[Laughs] Calvin doesn't believe you should check a bag ever, and of course Tina's got two big bloated bags and she's got to pay. Then when I get in my seat on the plane, someone brings their dog, and I'm like, "No, man. Unacceptable!"
The Neighborhood, Mondays, 8/7c, CBS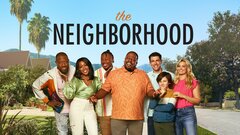 Powered by