'Tough as Nails' Season 4: Phil Keoghan Takes Us Behind the Scenes of Premiere's First Challenge (VIDEO)
Tough as Nails returns for Season 4 on January 4 on CBS, and TV Insider exclusively debuts a clip from the season's first challenge above. In talks with Phil Keoghan, the host tells us all about what's going down in the challenge.
"At the very beginning of the season, we have a team-picked challenge," Keoghan describes. "They've never seen each other work before. They don't know anything about each other. They introduce themselves to each other very quickly and say, 'I'm a pipeline worker. I'm a firefighter and a veteran. I'm a construction worker.' And then we put 'em to the test."
That test requires the 12 contestants to go out to inflatable boats moored in 30 feet of water and replace the entire mooring system. As Keoghan says of the challenge, "Nobody has ever done anything like this before, so it's about them using their life skills to be able to get the job done. And then of course, the first two to finish it, they get to pick the two teams of six."
That's the premise of the Tough as Nails format in a nutshell. Everyday workers are tasked with problems their line of work wouldn't tackle, but that their particular skills could help them succeed in regardless. The first challenge serves as each players' chance to introduce their particular skills and surprise Keoghan and the potential team leaders with their unique ways of problem solving. The Amazing Race host tells us that in this challenge, he's looking for impressive displays of quick thinking.
"I'm pointing out how they have this incredible tenacity to get the job done," he explains, mentioning one player who can't get their motor running, so they "become the motor" instead. Another player featured in the preview shows she's physically stronger than she appears. And while doing the first challenge, each player will need to simultaneously keep an eye on everyone else's skills, as the two winners will have a big responsibility to assemble a strong team that'll hold all season long.
Keoghan is thrilled that Tough as Nails is a continued success. "I just feel very lucky that I've been involved in successful formats like Amazing Race and Tough as Nails, which has been such a passion project and something we tried to get off the ground for over a decade. When we finally got a shot at it, it did resonate." The key to its success, Keoghan feels, is the fact that all of the contestants are the people who keep our everyday lives afloat (no eliminations is also a rarity for a reality competition series).
"Everybody needs to flush their toilet. Everybody wants to flick a light switch and the light goes on. There's a storm and the power lines go down. Who are the people that go out there in the middle of a storm and literally hook up the lights and the power again so that the elderly couple living down the street can turn the heaters on and stay warm in their house?" he raves. "We tucked away in our houses during Covid, but who are the people that go to the grocery store in the middle of the night and restock everything for us? Tough as Nails is an insight into [those peoples' lives], and I love that we have a very diverse cast. It's such a wonderful mix of passionate people from all walks of life who are really good at doing something that really matters and has an impact on all of us."
Check out Tough as Nails Season 4's first challenge in the full video, above, and be sure to tune in to the two-hour season premiere to meet the cast Keoghan admires so much.
Tough as Nails Season 4, 2-Hour Premiere, Wednesday, January 4, 9/8c, CBS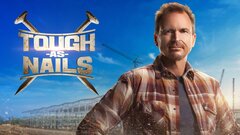 Powered by