'Vikings: Valhalla' Cast on Venturing Into New Worlds, Seeking Revenge & More in Season 2 (VIDEO)
Heroes don't quit. In the second installment of 11th-century Norse drama Vikings: Valhalla, the valiant leads — warrior explorer Leif Eriksson (Sam Corlett), his sister and keeper of the pagan flame Freydis (Frida Gustavsson), and ambitious prince Harald Sigurdsson (Leo Suter) — venture into unfamiliar worlds.
"Season 2 is about: Does the Viking ethos survive when you get out into the bigger universe?" says executive producer Jeb Stuart.
Considering this trio's ax-sharp survival skills, the answer is ja. They sure can't go home again: In the finale, Harald's half-brother Olaf (Jóhannes Haukur Jóhannesson) conquered Kattegat in a bloody battle that killed both Freydis' mentor and Leif's love. The melee also left Harald badly wounded, but Freydis rescued him.
In the opener, we learn she's pregnant but not telling Harald, and the couple opt to take separate paths. Explains Gustavsson: "It's not lack of love — they have destinies to fulfill."
Freydis embraces her role as a spiritual leader in a pagan refugee settlement led by Lord Harekr (Bradley James). "She wants so badly for it to be the new [holy city] Uppsala, but not all is as it seems," hints the actress, who will pick up a sword again. "Freydis is underestimated because she's pregnant, but she kicks butt!"
Harald pursues what he believes to be his destiny: to become king of Norway. To raise an army — and make money — he and Leif head for Constantinople via the frozen Dnieper River (in a boat atop a sled!); Leif brings a scientist, Mariam (Hayat Kamille), whom he met in a vulnerable grieving moment. She teaches him skills he will need to be a great explorer and "opens his heart again," Corlett says. But danger strikes the party along the way when they encounter the bloodthirsty Pechenegs tribe.
The season also continues the London storyline, with palace intrigue involving Queen Emma (Laura Berlin) and the manipulative Earl Godwin (David Oakes). It's all building to a battle Stuart says will top anything the show has done!
Vikings: Valhalla, Season 2 Premiere, Thursday, January 12, Netflix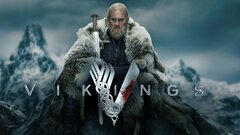 Vikings
where to stream
Powered by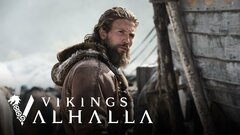 Powered by