'Mayfair Witches': See How Rowan's Powers Work in All New Trailer (VIDEO)
Get ready to see the world behind the world. AMC debuted a new official Anne Rice's Mayfair Witches trailer on Wednesday, December 7, giving a deeper look into the next installment of the network's Anne Rice Immortal Universe. And in the trailer above, Alexandra Daddario's Dr. Rowan Fielding learns the legacy of her previously unexplainable magical abilities.
Viewers see what the neurosurgeon's magical powers look like from the inside as she wields her powers against an unlucky victim. Or perhaps they earned their fate? Premiering Sunday, January 8, on AMC and AMC+, The White Lotus alum is joined by Harry Hamlin as Cortland Mayfair, Tongayi Chirisa as Ciprien Grieve, and Jack Huston as the insidious and enigmatic Lasher.
After the death of her adoptive mother plummets Rowan into an unexpected turn of events in New Orleans with her biological family, she learns she holds a pivotal place in the Mayfair line — one Lasher (and Uncle Cortland, Aunt Carlotta, and everyone else in her family, for that matter) needs to get more power.
Lasher has been haunting the Mayfair witches for generations. Chirisa's Ciprien will help Rowan make sense of her new circumstances as the 13th Mayfair witch and Lasher's deep connection to them all, but it will be far from simple. But as teased in the clips above, it won't be easy to get Rowan under anyone's control.
"For the first time in my life, I know exactly who I am," Daddario declares in the trailer. And as Rice readers already know and new viewers are soon to learn, Rowan learning the truth of her legacy spells danger for anyone who dares to repress her.
Mayfair Witches Season 1 will consist of eight episodes, running about an hour long each. The series is based on Rice's best-selling trilogy, Lives of the Mayfair Witches. Beth Grant also stars as Carlotta Mayfair. Additional cast includes Jen Richards, Hannah Alline, Geraldine Singer, and Annabeth Gish.
The supernatural drama is the second Rice adaptation at AMC. The first, Interview With the Vampire, is also set in New Orleans and is told between flashbacks and the present day. Mayfair Witches is executive produced by Mark Johnson, writer and showrunner Esta Spalding, writer Michelle Ashford, director Michael Uppendahl, and Jeff Freilich.
Anne Rice's Mayfair Witches, Series Premiere, Sunday, January 8, AMC and AMC+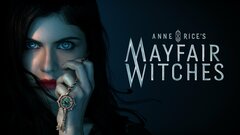 Powered by