'Willow': Hannah Waddingham's Hubert Helps Elora in Sneak Peek (VIDEO)
Willow is welcoming a familiar face to its third episode arriving December 7 as Ted Lasso favorite Hannah Waddingham joins the show as Hubert.
In an exclusive first look at Waddingham's appearance, the clip, above, sees her character Hubert introduced on a chance meeting with Elora Danan (Ellie Bamber). Rushing into a clearing, Elora approaches Hubert and her companion Anne (Caoimhe Farren), breathless and desperate, she looks up to the women who are quick to welcome her.
"Greetings, weary traveler," Hubert addresses Elora. At first, the bewildered young woman isn't sure of the situation as Hurbert is forced to clarify, "yes, you. Come, feast upon our modest repast. Though we are but humble woodswomen, what's ours is yours."
Realizing that the women are her best bet for the support she seeks, Elora says, "help me, please."
Her plea is met with a response of realization from Hubert who says, "oh, I gather from your dishevelment, and woeful aspect, you've gone got yourself a bit turned around in the uncultivated territories."
"Listen, we don't have much time," Elora says, trying to get Hubert and Anne to focus on what she needs to say. Hubert isn't all that impressed it would seem though.
"You see, they just don't teach young people situational awareness anymore, do you not agree Anne?" Hubert asks, clarifying to Elora, "oh, this is Anne, by the way. I'm Hubert, and what may we ask is your appellation?" The simple formality of revealing names is a fun added layer to this encounter, as Elora can't comprehend Hubert's vocabulary, raising an eyebrow at the term appellation.
As the scene carries on, viewers understand that Hubert seeks Elora's name, which is met with an interesting reaction. For those less familiar with Willow, the series continues the original story presented in the 1988 film as the titular character portrayed by Warwick Davis leads an unlikely crew of heroes on a quest to protect Andowyne from an unimaginable foe.
See the full first-look clip, above, and don't miss Willow as it continues on Disney+.
Willow, New Episodes, Wednesdays, Disney+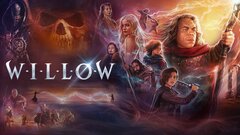 Powered by