'Frontier:' Savagery Abounds in Jason Momoa's New Netflix Drama (VIDEO)
Netflix has released the official trailer for its new historical drama Frontier, which stars former Game of Thrones and Red Road star, Jason Momoa. The gritty and action-packed series is set in 1700s Canada and revolves around the area's highly competitive—and deadly—fur trade. Netflix has already ordered a second season of the series ahead of its Jan. 23 premiere.
Momoa stars in the six-episode as Declan Harp, a man described by Netflix as "a part-Irish, part-native American outlaw" who seems to have no issue solving problems with the business end of his blade. Frontier was created by Rob and Peter Blackie, directed by Brad Peyton and feels like the angry offspring of The Revenant, Bravehart and Tom Hardy's upcoming FX series,Taboo.
RELATED: Netflix Explores a New Frontier With Jason Momoa of Game of Thrones
After appearing in Batman v Superman: Dawn of Justice as Aquaman, Momoa is also scheduled to star in a stand-alone film based on the comic book hero—arriving in theaters sometime in 2018.
Frontier, Friday, January 23, Netflix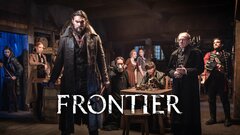 Powered by