'The Mosquito Coast': The Fox Family's Paths Diverge in Season 2 Trailer (VIDEO)
Apple TV+ is giving The Mosquito Coast fans a first look at the upcoming second season of the drama with a brand new trailer teasing plenty of action and family turmoil.
Set to return Friday, November 4, the show will have one episode on premiere day and will drop subsequent installments each Friday through Friday, January 6, 2023. Based on the acclaimed best-selling novel by author Paul Theroux, the series sees his actor nephew, Justin Theroux, return as Allie Fox, a brilliant inventor and stubborn idealist who uproots his family on a quest to find refuge from the U.S. government, cartels, and hitmen.
As teased in the trailer, above, Season 2 kicks off with Allie and his family — wife Margot (Melissa George), daughter Dina (Logan Polish), and son Charlie (Gabriel Bateman) — barely escaping Mexico with their lives as they venture deep into the Guatemalan jungle. There, they meet up with an old friend and her community of refugees.
In this new refuge, fresh trouble is created for the Foxes as they become entangled in a conflict between a local drug lord and his family. The pressure of this situation puts Allie and Margot at odds over whether to settle down where they are or keep moving onward. They'll follow different paths to secure their family's future at the risk of tearing them apart or uniting them stronger than ever.
Only time will tell how it will all turn out. The Mosquito Coast is executive produced by Mark V. Olsen, Will Scheffer, Stefan Schwartz, Evan Katz, Rupert Wyatt, Paul Theroux, Justin Theroux, Bob Bookman, Alan Gasmer, and Peter Jaysen. The show was created for television by Neil Cross who developed the series alongside Tom Bissell.
Watch the trailer, above, and catch up on The Mosquito Coast's first season streaming now, before Season 2 arrives on Apple TV+ this fall.
The Mosquito Coast, Season 2 Premiere, Friday, November 4, Apple TV+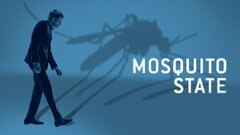 Powered by