'The 100' Counts Down to Season 4…and the Apocalypse? (VIDEO)
Last season on The 100, Clarke (Eliza Taylor) said "you don't ease pain, you overcome it." And now, it looks like she's getting a huge chance to prove it.
The CW just unleashed the Season 4 trailer for their wildly imaginative and epically controversial sci-fi drama, which finally returns in February. In the nearly three-minute clip, we learn that ALIE (Erica Cerra), the evil A.I. with major population-control issues, wasn't lying when she warned Clarke that her kill switch would lead to another nuclear catastrophe. The situation gets real and real ugly fast for our various crews (or krus, if ya fancy) amid all the acid rain and festering radiation-induced boils.
RELATED: The 100's Bob Morley on How Bellamy Might Be Redeemed in Season 4
Octavia (Marie Avgeropoulos) is clearly feeling her deadly side after murdering Pike, while Kane (Henry Ian Cusick) and Abby (Paige Turco) may be feeling each other, and Bellamy…well, we get the feeling some fans aren't gonna be happy about that tender moment Bob Morley's potentially redeemable bad boy shares with Taylor's Widow Clexa at the two-minute mark.
There are also some hints that we'll see an angrier Monty (Christopher Larkin), a more reasonable Murphy (the blazingly underrated Richard Harmon), some shady biz involving Ice Nation leader Roan (Zach McGowan, now a series regular) and—because she is awesome and impervious to death—even more danger for Raven (Lindsey Morgan).
What we don't see, however, is an easy way for any of these people as they attempt to outrun an extinction-level apocalypse. But if there's one thing The 100 knows how to do, it's shock us, so based on this trailer and what executive producer Jason Rothenberg said this summer, we're not counting them out just yet.
The 100, Season premiere, Wednesday Feb. 1, 9/8c, The CW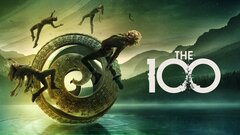 The 100
where to stream
Powered by