Watch! 'Shadowhunters' Facebook Live with Alberto Rosende and Dominic Sherwood (VIDEO)
The TV Guide Magazine offices in New York City were abuzz Monday when Shadowhunters stars Alberto Rosende (Simon) and Dominic Sherwood (Jace) stopped by to fill us in on their New York Comic Con weekend as well as talk the upcoming Season 2 of Freeform's hit fantasy series.
One fan asked where Jace will be in the aftermath of being taken by his father at the end of the first season. "Jace is on his own," Sherwood teased. "We pick immediately in Season 2 with an hour or two having passed…he's in a really bad place and he falls down that rabbit hole a little farther before he comes out of it."
RELATED: First Look Photos From Season 2 of Shadowhunters
With the announcement during the New York Comic Con panel that The Vampire Diaries star Paul Wesley would direct episode 16 in the new season, Rosende and Sherwood expressed their excitement of having him come to set. "He's coming from a world similar to ours," said Rosende. Sherwood also suggested that they have Wesley play one of the background Shadowhunters so he's not just behind the camera. (Let's make that happen!)
Check out the entire Facebook Live chat Rosende and Sherwood here:
Shadowhunters, Season premiere, January 2, 2017, Freeform.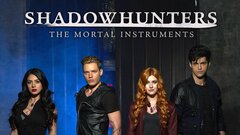 Powered by