'Shadowhunters' Gears Up For Season 2 With Expanding World, Challenged Relationships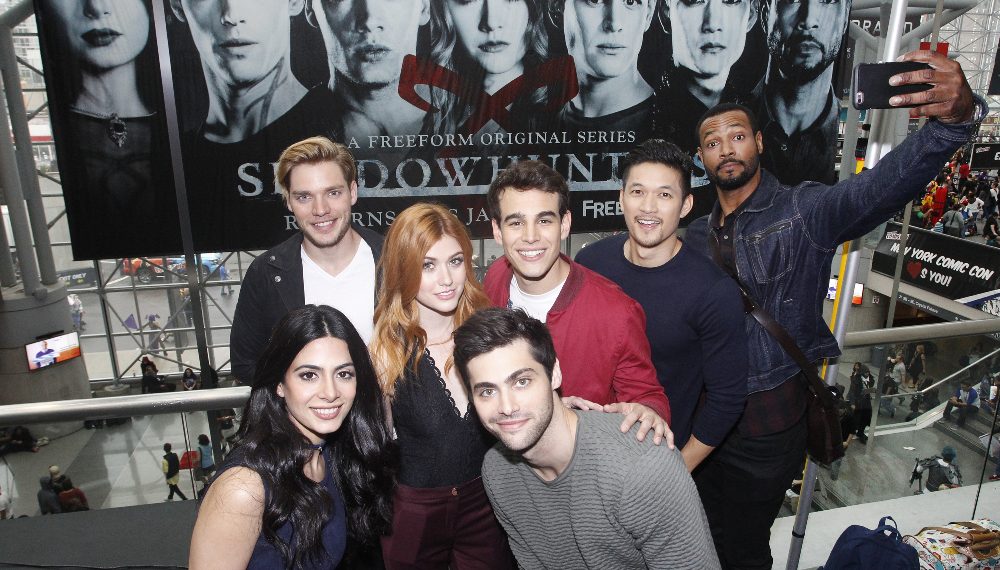 With a big Season 1 cliffhanger (Jace and Clary are siblings?) and new showrunners Todd Slavkin and Darren Swimmer (Dominion, Smallville) at the helm, Saturday's New York Comic Con panel for Freeform's supernatural drama Shadowhunters was full of scoop on the upcoming new season.
On the panel were cast members Katherine McNamara, Dominic Sherwood, Alberto Rosende, Matthew Daddario, Emeraude Toubia, Harry Shum Jr., and Isaiah Mustafa, as well as executive producers Slavkin, Swimmer and McG and Cassandra Clare, author of The Mortal Instruments series, on which the series is based. (Sherwood and Rosende will be part of a Facebook Live interview on the TV Guide Magazine Facebook page on Monday, October 10 at 11am/10c.)
After revealing the Season 2 trailer and two clips, Slavkin explained how the new episode will connect to the source material. "You'll be seeing bits and pieces… dotted throughout," he said. "If you're a fan of the books, you're going to totally dig it. It's Cassie. It's The Mortal Instruments. If you haven't read the books, you're still gonna dig it because it's awesome, entertaining television that will rock your world."
McNamara, a self-professed fan of the books, added, "you get an opportunity to see these characters and these relationships and this world that we all love in a new light and in a new way and put these characters in new situations and put them through things that push them beyond what the books did and you really get to see them interact differently." Added McG: "The whole world expands. The whole show expands."
RELATED: Shadowhunters Season 2 Photo Gallery
One big part of the new season will be the fallout from news that Clary and Jace are siblings after Jace found out Valentine (Alan Van Sprang) is his father. "[Jace and Clary's] journey still intertwines for sure but we do have a fairly substantial weight hanging over our heads," Sherwood said. "From Jace's point of view, he's on his own trying to do what he has to do in his mind and how he has to fix things so he doesn't have his friends, he doesn't have his parabatai, he doesn't have his family to rely on anymore. He just has to stand on his own two feet. And as far as that relationship goes, he's lost right now and he's really struggling." Sherwood added that things will definitely be getting much more worse for Jace before they get better.
Jace and Clary are handling the sibling news differently, according to McNamara, but Clary's goal is to help him in any way that she can. "Clary is trying to push aside any other [romantic] feelings and reach out to him as a brother and try to help him through that because she knows how difficult it is to realize that your father is the most evil person in that universe."
RELATED: Harry Shum Jr., talks Single By 30 and Shadowhunters Season 2
The other big romance of the series is the one between bisexual warlock Magnus (Shum) and newly out Shadowhunter Alec (Daddario) as their new relationship progresses. "I think what's really great about this season is you see what's happening with Magnus and you see what's happening with Alec and what they're going through individually and how it affects the relationship," Shum said. "We're going to get a lot of deeper background into the characters and ultimately you see the first date and how it affects them, as well, individually."
Unfortunately, fans in favor of romance between Simon (Rosende) and Isabelle (Toubia) may have to wait a bit before "Sizzy" (their shipper name) truly ignites. "Right now, Simon and Izzy are in completely different zones," Rosende revealed. "Izzy's so much with the Shadowhunters figuring out this whole Valentine thing, and Simon, because he's a vampire, we all know they don't get really along with Shadowhunters, so they're very much separated now. But it goes into the journey of Sizzy that need to have them be apart and grow as people and grow into who they are." Fans are not alone, though, in wishing Sizzy would happen. "I'm dying for Sizzy," admitted Toubia.
Even if romance isn't in cards immediately, Rosende previewed that Simon will be exploring his new world as a vampire when the new episodes begin. "In Season 1, Simon was trying to find a place," he said. In the new season, "we see him start to play a little bit with this vampire strength and these other things and attributes that come to him and he starts to own it a little bit. He starts to own who he is."
Now that Clary's mother, Jocelyn (Maxim Roy), is awake from her coma, Mustafa teased of that stalled romance, "You're going to get to see a lot of that relationship develop and you see how deep that goes. You also see more of Luke on the inside and you'll get to know his character a lot more." Jocelyn being more a part of the action will also impact the relationship with her daughter, Clary. "Clary grew up [and] has matured so much over the first season," McNamara said. "She still sees her as the little girl that started Episode 1 so dealing with that shift and seeing her more of an adult. Their relationship goes through their ups and downs but that's just part of their journey."
Other big news announced during the panel was that The Vampire Diaries star Paul Wesley will be helming an upcoming episode of Shadowhunters. In a taped announcement, Wesley said, "I'm beyond excited. I can't wait to work with the incredible cast and most importantly, I can't wait to try something completely new, in an entirely new genre that I really know nothing about, exploring the world of vampires and warlocks and werewolves. I'm going to have to do some serious research, some really heavy lifting here." Wesley, a fan of Shadowhunters, according to Slavkin, will direct episode 16 of the second season.
Shadowhunters, Season premiere, Monday, January 2, 2017, Freeform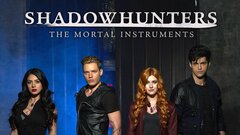 Powered by