'Little People, Big World': Can Game Night Boost Matt's Ailing Spirits? (VIDEO)
If you're a regular viewer of TLC's Little People, Big World, you know the series follows the Portland-based Roloff family, led by now-divorced parents Matt and Amy, who happen to be little people (as is their son, Zach). And while Matt and Amy's marriage may be over, their lives are still very much intertwined as the continue to run their Oregon farm together. However, if you can count on anything it's that the Roloff problems the entire family face are relatable to viewers, which expalins why the series is still around and drawing viewers as it airs its twelfth season.
RELATED: The Property Brothers Take On New Orleans
Like many post-divorce families, Roloff offspring Zach, Molly Jo and Jake spend time in the new season trying to figure out how to keep the family peace when wanting to do group gatherings where both Matt and Amy could potentially be involved. In this week's episode, for example, the kids want to cheer up Matt, who is down in the dumps now that he is mostly immobile post-surgery. Will a game night boost his spirits? Should the kids invite Amy, who is trying to start her new single life?
Check out the clip where the kids talk over their new normal as their parents embark on the next chapters in their respective lives.
Little People Big World, Tuesdays, 8/7c, TLC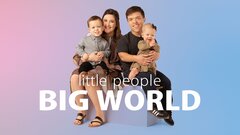 Powered by