The 'Property Brothers' Let the Feel-Good Times Roll in New Orleans
Jonathan and Drew Scott may be the poster boys for good-natured sibling rivalry, but the Property Brothers are getting to work for an even better reason than to bust on each other. In the four-part Brothers Take New Orleans (kicking off Wednesday night), the guys each take one half of two identical neighboring duplexes and completely redo the homes in hopes of scoring the highest property value as determined by a panel of local real estate experts. However, this project means more to both of them than just winning bragging rights.
OK, first off, why New Orleans?
Jonathan: The big thing for us was to do something a little different and we're very involved with a lot charities we work with and when we started talking with St.Bernard Project, this amazing organization that helps countless people rebuild their homes. We didn't realize that in New Orleans alone there's over 16,000 homes still sitting there, unlivable, since Katrina.
RELATED: What's Up, Holmes?! DIY's Mike Holmes on How to Buy It Right
So when we dug in a little deeper and started finding some of these specific stories, we found this house and this homeowner has been out of her house for eleven years, which is insane. Imagine not being able to go home for eleven years. Her roof had been damaged and her windows had been broken during Katrina and the moisture got in and mold took over and so she had hired a contractor way back in the day to help get her back in the home and unfortunately she fell victim to contractor fraud and that person ripped the house apart and then took the money and ran and so she had no more money left to her name.
So we really wanted to help out. And knowing that it was a double shotgun designed-home, which is basically like a duplex, Drew and I could each do a side and we could have fun, we could make it beautiful, but most importantly we could get a family back in their home.
How bad was the heat and humidity down there?
Drew: Jonathan and I are used to the heat; we live in Vegas. But it's different down there, the humidity is really a lot different than the dry Vegas heat. I love the heat, but Jonathan's hair was not liking it. [Laughs]
So it's two houses, that share a wall? What is going on on the other side of the shotgun house?
Drew: It was two families, a sister on one side and her brother's family on the other. The families in both houses were displaced. So we converted it to a front and back split which makes it far more usable. The two sides of the shotgun were so narrow that it was less than 10 feet wide. That's the entire width of the house so you literally had to walk from one room into the next to go from one bedroom to the next bedroom from into the kitchen to into the bathroom, it was terrible design.
What kind of problems did you face immediately on the project?
Jonathan: Everything we could think of was wrong. They had termite damage, they had mold, they had rot, they had structure that had been comprised. The unfortunate thing is there had been people squatting in the home and vandalizing the home, which itself was over a hundred years old. These beautiful original features had been ripped out because somebody tried to sell them. It was like starting from scratch but we wanted to make sure the home stayed authentic to its original beauty while making it functional to today. I'll definitely admit this was one of the worst-shape homes that we've ever worked on.
Drew: Every time we renovate a house it has to be a safe home, not just beautiful. We also want to keep certain historic elements. It had what's called a quad fireplace, this four-sided fireplace that was an original feature of the home. With something like that, you need to spend the time to restore it because that's the kind of stuff people love in a house in New Orleans.
And how many days was this job?
Jonathan: Oh, it was quite a long project. So we were in New Orleans for two and a half months and were under regular construction timelines to do a full gut, fix structure, do everything. But the nice thing was we also peppered into the show scenes of us getting out and exploring New Orleans. Even though we've been there many times, I always find something new. New restaurants, we did the ghost tours as well so we're learning about some of the haunted past.
And you have some famous friends stopping by, right?
Drew: What we do on Brother vs. Brother, we usually have friends of ours to come and they'll judge us on the different spaces, it just makes it more fun and intimate. We had a lot of our friends who are from New Orleans or work in New Orleans [on this one]. You get to see Hoda from the Today show, Scott Bakula comes down from NCIS: New Orleans. We have a lot of fun with the different people that came in to see us and judge us. Who doesn't like judging the brothers?! [Laughs]
RELATED: Andrew Zimmern Lets the Cabbies Make the Decisions on Driven By Food
Which one of your cried the hardest when the families came home and saw what you had done for them?
Drew: Well Jonathan is the "Crying Contractor," that's his nickname though… Well actually I think our entire crew was sort of on the edge of tears…imagine yourself being out of your home for 11 years. You know she's been sleeping in a rental place, she had a mattress on the ground for basically the last decade, it brought tears to everybody's eyes.
You guys really were raised right.
Jonathan: Well we definitely had a great sense of family and that's something that we've never taken for granted. We still talk to our parents almost every day. We spend as much time as we can with them. That's why I think it kind of really hit home for us. I can't imagine our family dynamic being disrupted by being forced out of your home. I think it's a beautiful side of the story. We're helping [families], shedding a light on New Orleans and how beautiful a city it is and the struggle that some people are experiencing. But also at the same time showing that you can take this old, beat up place that people wrote off really shine it back up to be something beautiful again.
Drew: It's the same philosophy Jonathan has for himself. A little nip and a little tuck and he can take his old contractor look and make it beautiful again! [Laughs]
Brothers Take New Orleans, Wednesdays, 9/8c, HGTV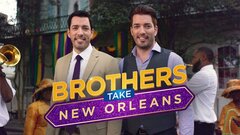 Powered by