'America's Got Talent': Simon Cowell Previews Jam-Packed Season 17 (VIDEO)
If there's one word to describe Season 17 of America's feel-good reality competition America's Got Talent, it's more: more standouts, more over-the-top entertainment, and more potential twists.
"The high-class problem we've got is there are 70 acts who, in my opinion, should go through to the live shows — and 35 spaces," says creator and judge Simon Cowell in a Zoom chat, musing, "We may have to do something where we can get more acts to the finals."
The talent level was so impressive during auditions, that it "didn't feel like it was COVID anymore," adds Cowell, who returns with host Terry Crews and fellow judges Howie Mandel, Heidi Klum, and Sofia Vergara to choose that million-dollar winner. Who's got an edge? "The singers are really strong. We also have some good groups — we haven't had those for a while. The magicians are really cool," he says. "I can't call it right now."
For fans who love having their minds blown, a heavy-metal choir and a zombie ballet are both coming up ("It's like, 'Where were you when you invented this idea?!'"), plus some slightly more mainstream animal acts, including one with a horse and another with a group of chickens.
Season 17 will also feature a tribute to the late singer Nightbirde, who departed the competition early last season to battle a cancer diagnosis. "[I want to] remind everyone what an amazing songwriter and person she was because she was special," Cowell says.
See Also
Simon Cowell returns to 'AGT,' 'American Ninja Warrior' lowers age limit to 15, plus details about NBC's newest reality competition series.
But ventriloquist or vocalist, sword-swallower or salsa dancer, the latest wave of talent has given Cowell hope for finding a star with staying power: "Whichever way we go, we're definitely going to launch some careers this year." Cue the confetti blasters!
Check out more of our video interview with Cowell in the video above.
America's Got Talent, Season 17 Premiere, Tuesday, May 31, 8/7c, NBC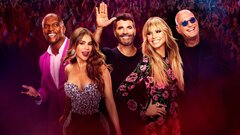 Powered by