'Masters of Sex' Canceled by Showtime
It's amazing how quickly shows can go from critical darlings to barely making a blip on the radar. Masters of Sex, the Showtime series starring Michael Sheen and Lizzy Caplan as sexual research pioneers Bill Masters and Virginia Johnson, just finished its fourth season with barely a mention, not long after the show got Emmy buzz and nominations for its first two seasons. So it's no surprise to hear from Deadline that Showtime won't continue with the show.
RELATED: Masters of Sex Boss on Season 4's Return to a "Grown-Up" Story
Season 4 ended with Masters and Johnson, having spent the early part of the '70s with other romantic partners, getting married amidst internal threats to their practice. The show, produced by Michelle Ashford, had strayed pretty far from its source material, Thomas Maier's biography of the pair. And after spanning almost two decades in four years, and seeing the couple get married (a marriage more of convenience than romance in real life), Deadline's sources told them it was a good ending point.
Then again, as any fan of the show might tell you, that episode in Season 3 where Bill calls on Virginia to flash a depressed gorilla at the local zoo might have been where a lot of people checked out.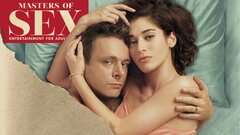 Powered by