'black-ish': Rainbow Being Biracial Isn't (Always) a Laughing Matter
Laughter is par for the course when watching ABC's hit comedy black-ish, which explores the upper middle class Johnson family (headed up by Anthony Anderson and Tracee Ellis Ross). Besides the jokes in each episode, however, issues such as gun control, race, police brutality and sexuality (to name a few) can be found at the core of the show. Creator Kenya Barris and his writing team have mastered the art of weaving the light and heavy parts of the show, earning their first Emmy nomination for comedy series this past summer.
In this week's episode, Rainbow (Ross) is faced with something that's usually played for laughs on the show—the fact that she's biracial. The issue comes up when teenage son Junior (Marcus Scribner) comes home with a white girlfriend, sparking unexpected feelings in Rainbow. Barris talks to us about incorporating issues in the show and the legacy of issue-oriented comedy that started with Norman Lear's iconic sitcom, All In The Family.
How much do you think about the audience when you and your writers are breaking story and are addressing an issue or topic?
I really try not to think about the audience to be honest with you. Sometimes if you do that you start forming your show almost as like in a survey group way and that to me is not really how you can do it. A painter never goes and says, "Well people like red now. OK, so then we'll use red." You have to really try to be honest to your voice and as true to your voice as you can.
RELATED: How TV Comedies Mom, black-ish and Speechless Get Serious
In this week's episode, Rainbow has to confront her feelings about being biracial. What are the origins of the story?
It's a really big part of the layer of what our country is today. In particular with being mixed, when you're black and white, it puts you right in the middle. In society there are two opposing forces and the people you love the most in your life are on either side of that, so where does that place you? And we made all the jokes about Rainbow [being biracial] but now we're gonna see it put into a real situation. I'm very excited about it.
I've often thought that you can't touch issues the way that Norman Lear did with All In the Family in the 1970s but black-ish, Mom and other shows are doing it much in the same way in 2016. Do you see it that way?
I do. To be able to say we're doing All In the Family is an awe-defining compliment. This thing that Norman has done and that he has continued to do is he tells real stories and he has this thing that we're all just another version of each other. That's what that show did. Archie Bunker [Carroll O'Connor] was a racist, a bigoted loud mouth guy, but at the same time he had those moments where he was endearing because we understood that it wasn't coming all necessarily from a malicious place. It was coming from a place of how he grew up and this is what he believes but he wasn't necessarily a bad guy. He just had these thoughts and he was growing as the show grew.
When you created black-ish, did you know you wanted the issue side of things to be a regular part of the show?
We really wanted the show to start a conversation that made people think and talk about things that they wouldn't normally think and talk about and use comedy as that trigger to help whatever the topics we were talking about go down. Just like with any kid that you're raising, the shows begin to take on a life of their own.
Check out an exclusive clip where Rainbow is forced to talk about Junior's new girlfriend:
black-ish, Wednesdays, 9:30/8:30c, ABC.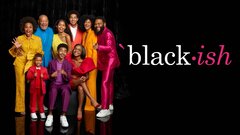 Powered by