'Name That Tune': JoJo & Kelly Osbourne Face Off on an Aretha Franklin Song (VIDEO)
For the second season of Fox's Name That Tune, the fun revival of the iconic game show brings back host Jane Krakowski (Unbreakable Kimmy Schmidt) and bandleader Randy Jackson (American Idol), but there's a new addition this time around — stars! Celebrity contestants will now be in the mix as they are pitted against each other to guess iconic songs in just a few notes.
As before, each episode is split into two half-hour contests where two players are pitted against each other to beat the clock and see who has the better (and quickest) knowledge of songs performed by a live band and singers.
We'll still get everyday folks on episodes but additionally, the March 29 premiere will feature Super Bowl vets Vernon Davis and Victor Cruz playing against one another for the charities of their choice, as well as singer-actress JoJo facing off against TV personality Kelly Osbourne.
If you think making mistakes is only for the real people, TV Insider has an exclusive sneak peek from the premiere where either Kelly or JoJo makes a big mistake over an iconic song from the Queen of Soul. Watch the clip above to see what happens.
Name That Tune, Season 2 Premiere, Tuesday, March 29, 9/8c, Fox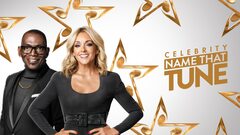 Powered by