'Kung Fu Panda': Jack Black to Reprise Role in New Netflix Animated Series
Netflix is celebrating National Panda Day with the announcement that Jack Black is returning as the Kung Fu Panda, Po, for a new animated series, Kung Fu Panda: The Dragon Knight.
Black confirmed the news on his social media pages on Wednesday (March 16), preparing fans for another globe-trotting adventure with the heroic yet accident-prone giant panda Po. Helmed by DreamWorks Animation, the new series is executive produced by Shaunt Nigoghossian (Bunnicula) and Peter Hastings, who previously developed the 2011 Nickelodeon spinoff series Kung Fu Panda: Legends of Awesomeness.
The story of the new series revolves around a mysterious pair of weasels who set their sights on a collection of four powerful weapons. It's up to Po to leave his home and head out on a quest for redemption and justice. On his journey, Po finds himself partnered up with a no-nonsense English knight named Wandering Blade. These two mismatched warriors embark on an epic adventure to save the world — and they may even learn a thing or two from each other along the way.
Kung Fu Panda was first released in 2008 and was directed by John Stevenson and Mark Osborne. It starred the voices of Black, Dustin Hoffman, Angelina Jolie, Ian McShane, Seth Rogen, and Lucy Liu. It became the third highest-grossing film of 2008, launching a multimedia franchise along with two movie sequels and two TV series, the previously mentioned Legends of Awesomeness and Prime Video's Kung Fu Panda: The Paws of Destiny.
The Dragon Knight marks the first time Black has reprised his role for a TV spinoff — only Liu and James Hong reprised their film roles for the Legends of Awesomeness.
Check out the first look images from the new series below.
Kung Fu Panda: The Dragon Knight, TBA, Netflix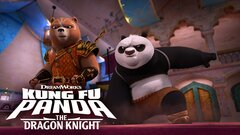 Powered by