'The Boys': 5 Questions Raised by the First Season 3 Teaser
The Boys' first full teaser for Season 3 arrived over the weekend and there's a lot to unpack from the nearly two-minute-long sneak peek, hinting at big changes ahead.
Whether it's Billy Butcher's (Karl Urban) apparent new powers, A-Train's (Jessie T. Usher) fresh suit, or the introduction of Soldier Boy (Jensen Ackles), we have more than a few questions. Below, we're breaking down some of the biggest questions raised by the teaser.
Is Butcher a Supe now?
The opening moments of the teaser reveal Billy Butcher's glowing eyes and through other snippets we see him holding a vial filled with a greenish liquid. Although it doesn't look exactly like the blue Compound V serum we've seen before on the show, it would seem that the vigilante is using the substance to gain powers. So, how does that work? Looking back at the comics on which the series is based, Butcher does utilize Compound V to become stronger. How he'll use that power in the TV series will remain to be seen, but laser vision certainly looks cool on him.
What's going on with A-Train?
Along with wearing a new suit, it looks like A-Train is getting into some promotional work, taking a note from Kendall Jenner's notorious Pepsi commercial by putting himself between protestors and law enforcement and opening a can of a beverage named "Turbo Rush." But what's more, it looks like he's getting more involved in protecting marginalized people during what appears to be a brawl with Nick Wechsler's Blue Hawk, a new Supe joining the show for Season 3. Can we expect some contention between these two? Blue Hawk isn't from the comics, so it's hard to reference any source material, but we're certainly intrigued.
Will there be a musical episode?
One frame teases what appears to be a musical number featuring Frenchie (Tomer Capone) and Kimiko (Karen Fukuhara) in a cafeteria belonging to some kind of care facility. Could the apparent musical number be hinting at an overall musical episode? It would be a bold move and an episode that we'd be eager to see.
What will Soldier Boy's presence mean?
Jensen Ackles is suiting up as the original Supe, Soldier Boy, in Season 3, and considering how the introduction of Stormfront (Aya Cash) went last season, we can't help but wonder if there will be a twist involved with his introduction. Apparent from his costume, Soldier Boy is this universe's interpretation of Captain America. A former war hero, he's been around for a long time and will be one of the characters to watch this season.
Is Homelander going to finally lose it?
Homelander (Antony Starr) has been on a path that continues to wind him tighter and tighter, and we're scared for anyone that will be around when he finally snaps. In Season 2, he envisioned himself lasering an entire crowd of people, offering a glimpse into what it might look like if he was pushed to the breaking point. Now, he must bottle it all up and smile for the camera, but his dead-eye look suggests Season 3 will see its most unhinged Homelander yet. Can Butcher handle that challenge? With his own laser vision, it would seem possible.
See Also
Get a first look at old and new faces in this preview for the Prime Video hit's latest chapter.
While Season 3 can't come soon enough, let us know what questions you'd like to see answered, and stay tuned for more first looks as we approach the summer premiere.
The Boys, Season 3 Premiere, Friday, June 3, Prime Video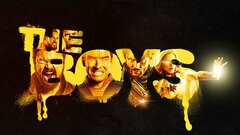 Powered by