'Blue Bloods' Cast Answers More of Your Burning Season 12 Questions
For fans who sent questions for the Blue Bloods cast and executive producer Kevin Wade who didn't see their entries in the TV Guide Magazine cover story — and for the rest of you lovers of the Friday night cop/family series — we have a treat!
Read on below for some more of the many questions we received in celebration of BB's 250th episode, along with the answers from Tom Selleck, Donnie Wahlberg, Bridget Moynahan, Will Estes, Vanessa Ray, Marisa Ramirez, and aforementioned EP Wade. Enjoy!
This isn't a question, but I want to tell Tom how much I love Frank's brain trust Baker (Abigail Hawk), Gormley (Robert Clohessy), and Garrett (Gregory Jbara)! – Guest
Tom Selleck (NYPD Police Commissioner Frank Reagan): I love them! They're all good friends  You know, at the beginning of the show I think they imagined me out in the streets, commanding military type operations against the bad guys. That was not acceptable. I told them if Frank has to prove he's the boss all the time, then you cast the wrong guy. I'm so proud I got Abigail. She had one line in the show (announcing a visitor to the police commissioner's office) and I was frustrated because I didn't have any aide to talk to. I was just giving orders in this big set, called the "real time crime center." So I asked Abigail, "Can you improvise something? We'll go back to the elevator, I'll get off, and we'll talk." She did and I could tell she was a trained actress. For the audience, I think she's Radar in M*A*S*H. She really knows what's going on. She's now earned an irreplaceable position at 1PP just like Garrett. I worked with Greg in In and Out — a great movie — and I put him in a couple of pilots that I produced that didn't sell. So I thought that besides Baker, I needed a deputy commissioner of public information and I suggested Greg, who had just won a Tony. And then I got Robert Clohessy, who plays Sid. He was Danny's boss, and I had a scene with him when Danny was having a problem. I thought he was really good and being wasted. So I talked to Donnie and Kevin Wade. I said, "Frank is so worried about losing touch with the rank and file — which is why he came on the job — that he wanted someone to remind him. And he brings in Gormley." That universe has allowed us to tell what goes on when the commissioner's office door closes, because his stories are different than the stories on the street.
Is there any chance of a wee bit more singing? You came close with the karaoke scene. — Dorjean
Donnie Wahlberg (Det. Danny Reagan): The karaoke scene went over so well that Danny will almost inevitably have to sing again at some point.
Why is Danny the only one that really eats some of the meals in the Sunday dinner scenes? — Lila
Wahlberg: Danny probably eats the most because Donnie's the hungriest. Seriously though, Danny is kind of a bull in a china shop. The best way to play that at dinner is to talk a lot with his mouth full.
How many of the main cast members have been to see Donnie Wahlberg in concert with NKOTB? — Amanda Diehl
Wahlberg: I believe nine. But I'm still trying to get Tom and Len [Cariou] to come.
Marisa Ramirez (Det. Maria Baez): It would be fun to see everyone together at a show. My first NKOTB concert was 7th or 8th grade with a bunch of my friends and our moms at Dodger Stadium. It's been so much fun to revisit that part of my life every time I see them in concert again since I've started working with Donnie. I think I've been to five shows over the past nine years. The show at the Hollywood Bowl was my favorite so far!
I hope to see more of [Erin's former husband] Jack Boyle (Peter Hermann) this season. Is a reconciliation possibly in the cards? — MaryKate
Bridget Moynahan (Trial Bureau Chief Erin Reagan): We had a few scenes with Jack Boyle that really felt like there was something cooking there. I would like to say that off-screen, it's still cooking. And I'd like to say that next season they'd bring him back! If we have a next season. I don't know that we do, but hopefully Jack Boyle will come back. I love working with him. I always think they have such a nice chemistry on screen. And he came to family dinner!  That was such a nice scene of him sitting down and everything.
Could there be a fast-forward to when Jamie becomes police commissioner in the future? — Madhatterhamlet
Will Estes (Sgt. Jamie Reagan): Jamie Reagan will probably be the P.C. one day, but I'm not sure it will ever fit into the structure of this Blue Bloods.
Who's the practical joker in the cast?—Karlene Kincaid
Estes: Vanessa and I laugh all day long together. Somehow we are always pulling for the comedy. It's just the nature of our friendship at this point, and I think it propels us through the day. We are often dealing with heavier subject matter in front of the camera, so perhaps it's a balancing act. We stay light to go heavy. We've gotten in trouble for it. Vanessa can even jest right up until "action!" And I have to beg mercy for a few moments to compose myself before we roll. I imagine from the outside looking in it could seem like we are goofing off, but we're both highly focused on our performances.
Why don't newlyweds Eddie and Jamie ever kiss and hug? — Silvermax 7
Vanessa Ray (Officer Eddie Janko): There are a couple steamy kisses over the years! Haha. But so often we see them at work and around the Reagan family dinner table where PDA doesn't feel appropriate. It's all in the flirty eyes for those scenes.
Which cast members ruin a take by cracking up? — Guest
Ray: I don't want to name names, but historically there is a certain end of the table that gets the church giggles around Hour 2 of filming the dinner scenes… I may or may not be on that end of the table. (I'm absolutely on that end of the table.)
Will we ever get to see an episode focused a little more on Baez's backstory? She's my favorite, but I feel like we don't actually know a lot about her. — Isabella Dimesa
Ramirez: I would love to know more about Baez's backstory too. We have had some little glimpses of family life with the couple episodes of her brother Javi and a scene with her mom and sister, but unfortunately, we haven't seen them again. It's kind of fun that there is a bit of mystery to Baez. Maybe she has some deep dark secrets that we can uncover someday, or some deep layers we can peel back and really get to know her.
Are [Erin's daughter] Nicky (Sami Gayle) and [Danny's son] Jack (Tony Terraciano) coming back? –Kyle
Executive producer Kevin Wade: Absolutely! Nicky and Jack will definitely show up.
Why have there been so many people named Jack on the show? In addition to Danny's son and Erin's ex, there are quite a few guest characters named Jack? — H.H.
Wade: Lazy writing. There's my shortest answer [Laughs]. We try to keep an eye on that stuff. I'd have to look and verify your account, but I wasn't aware that we used so many Jacks. I'll be careful about that going forward.
Blue Bloods, Fridays, 8/7c, CBS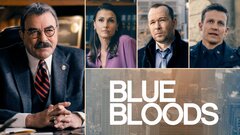 Powered by