'NCIS: LA': What Happened to Hetty in Syria? 3 Theories
[Warning: The below contains MAJOR spoilers for NCIS: Los Angeles Season 13 Episode 11 "All the Little Things."]
Hetty Lange (Linda Hunt) may still be MIA on NCIS: Los Angeles, but at least those back in the U.S. are finally learning a bit more about what their former operations manager is up to in Syria. There's only one problem: Where is she?
In "All the Little Things," Special Agent G. Callen (Chris O'Donnell) reaches out to Zasha (Oleysa Rulin) for information after a U.S. drone strike in Syria. While he may not have confirmation that Hetty was there, he has a "hunch," he tells Anna (Bar Paly). The good news is Zasha doesn't find her among the injured or dead. The bad news is Hetty was meeting with the target, Al-Qaeda leader Mohammad al-Kalmira. "She must have left before the strike," Zasha suggests. Chances are her target and his operatives did, too. Callen (and later Gerald McRaney's Admiral Kilbride and Peter Cambor's Nate Getz) wouldn't be surprised if she called the strike in herself.
Both Kilbride and Callen learn a bit more about what Hetty's up to, in conversations with Nate and Hetty's old friend Harris Keane (Jeff Kober, last seen in Season 10), respectively. As Nate divulges, Hetty was meeting with Al-Qaeda leaders to negotiate the release of some hostages, the identities of whom she didn't tell him. He profiled the leaders (including al-Kalmira) for her, but he hasn't heard from her in a couple days and has no way to reach her.
Keane knows more, having been operating as her overwatch. "She's gone," he tells Callen. "She either absconded before the strike or went to ground." There's "no sign" she was killed. As for the hostages, their cover was they were Western journalists, but they're really Hetty's "people," possibly NCIS. She didn't tell Keane more in case he was compromised. He's using the war chest she brought to buy answers.
So what happened to Hetty after the drone strike? We have a few theories.
Hetty Is Dead
Let's start with the darkest and, frankly, least likely one. Would NCIS: Los Angeles really kill off Hetty Lange off-screen? It's hard to imagine that happening, especially with the way the current arc is playing out.
She Escaped & Has Gone to Ground
Like Callen, Kilbride, and Nate, we wouldn't be surprised if Hetty's behind the drone strike. She may have done so in order to get away from the al-Qaeda leaders and is somewhere on her own or she used it as part of her negotiation tactics and is somewhere with them, still trying to get the hostages released. But in either scenario, Hetty's still very much in control.
Hetty's Been Taken Captive by al-Kalmira
The assumption is Hetty wasn't present when the drone hit. But we can't help but be worried that in the confusion of it, something may have gone wrong with her plan. Maybe al-Kalmira, one of his men, or another Al-Qaeda leader took advantage of the situation and took her hostage. Maybe she let herself be taken in order to get to her people.
NCIS: Los Angeles, Sundays, 9/8c, CBS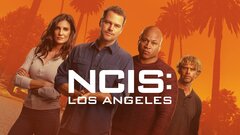 Powered by