'Blue Bloods' Celebrates Its 250th Episode & It's Business as Usual (RECAP)
[Warning: The below contains MAJOR spoilers for Blue Bloods' 250th episode "Guilt."]
Blue Bloods fittingly celebrates its milestone 250th episode by closing out with a Reagan family dinner, on St. Patrick's Day, and an Irish blessing.
There's nothing all that different about the dinner. The usual suspects — Frank (Tom Selleck), Henry (Len Cariou), Danny (Donnie Wahlberg), Erin (Bridget Moynahan), Jamie (Will Estes), Eddie (Vanessa Ray), and Sean (Andrew Terraciano) — are present. They share fond memories, like how there was almost a Patrick in the family (Erin) and rib one another (like Sean not deserving of his good Irish name for not realizing his aunt's comes from Erin go Bragh, Ireland Forever).
And the episode itself is pretty much business as usual for the commissioner and his children, with the 1PP inner circle getting a blast from the recent past, Eddie joining Danny and Baez on a case, and Erin's trouble with her boss, Crawford, affecting Anthony (Steven Schirripa).
Trying to Fix a Mistake
Remember how Frank's inner circle really didn't like the idea of Detective Angela Reddick (Ilfenesh Hadera) working with them in 1PP? Well, after she's shot, Abigail Baker (Abigail Hawk), Garrett (Gregory Jbara), and Gormley (Robert Clohessy) are all feeling a bit guilty for how they treated her. Gormley thinks he was too hard on her, though Garrett points out she gave as good as she got. Baker feels like she could have been more welcoming, and while Garrett disagrees, he also acknowledges that they did push Reddick out the door.
Frank checks on the injured detective, and she tells him that the doctor saw some abnormal brain activity on a scan, so she's being kept for observation. However, that was a lie, as Frank confides in Jamie later. And the conversation that follows between them makes it clear that if anyone from the family is going to follow in Frank and Henry's footsteps and become commissioner, it's Jamie (as we already figured), even though he doesn't want the job.
Jamie figures out it's likely PTSD or something like it keeping Reddick in the hospital, but he also knows that Frank can't call her on it or get her to see a psychologist, so he's betting that she'll get there on her own. If she doesn't, he knows his father will have to walk her through it. "You know, I wouldn't wish my job on anybody but if you were ever so inclined, you'd be really good at it," Frank comments. "I'm not so inclined," Jamie tells him. "Happy to hear it," Frank replies.
In the end, while that guilt drives Gormley to offer Reddick her spot back at 1PP with them, she instead chooses to get back out there rather than go behind a desk. She's built a tough-as-nails, type A, overachieving persona, and now she's remembering that there is a person under that. While a post at 1PP is her lifelong goal, she knows what she needs to do.
Problems With Neighbors
After Eddie and her partner respond about a dozen times to neighbors at each other's throats — Mitchell and Jonathan blast show tunes, Roger banged on a wall and knocked down Jonathan's painting, they poisoned his dog — Danny and Baez (Marisa Ramirez) catch the case when one (Mitchell) ends up dead. Roger had threatened to kill him and is a hothead, so of course he's the primary suspect. Plus, he missed work and has anger issues.
Then Eddie brings Roger to Danny and Baez after he shows up at her precinct. He insists he didn't kill Mitchell and initially ran because he knew how it looked. Though he doesn't confess, Danny thinks he seems like he's in pain because he's feeling guilty. But then the ME reports that a heart attack killed Mitchell. He was already dead when he was stabbed. Since that's the case, it's not murder, Danny and Eddie tell Roger. He again insists he's not guilty.
So who tried to kill Mitchell? It was his husband, as Danny and Eddie see after gaining access to a camera Mitchell planted on the balcony in case Roger retaliated for what happened to his dog. Jonathan found out Mitchell had an affair, and their music had been loud to drown out their fight. He went out, got drunk, and came home angry, then stabbed Mitchell, not realizing he was already dead. The DA is going to try to charge him with attempted murder.
The Real Reason for a Promotion
Anthony's boss, Charlie Peterson (Rob McLachlan), surprises him when he brings him into his office and reveals he's retiring — and he wants Anthony to be the new chief investigator. But Anthony doesn't give his answer (yes) until Erin voices concerns that Crawford is pulling the strings as a way to get at her. He could have gotten the job on merit, he argues.
See Also
Will Danny and Baez admit their feelings? Will Jamie and Eddie have kids?
And so Anthony throws himself into this new position, ignoring Erin as he does. The only problem? He's not going to do the job like Charlie did, and his former boss takes issue with that. Charlie refuses to stand by and watch him destroy everything he built, and Anthony notes he doesn't sound like the guy he claimed to be who lost the passion for the job.
Now knowing that Crawford was behind the promotion, Anthony goes to see Erin (though neither thinks they have to apologize). Crawford wanted to separate them and piss off Erin, he knows. He didn't want the job to begin with, he says, but he wanted Erin to want him to want it. She does, she assures him, but once she's DA. She needs him there with her because he's the only one she trusts.
And now we can't help but wonder what Crawford's next move might be.
Blue Bloods, Fridays, 10/9c, CBS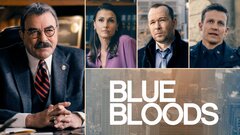 Powered by