'American Song Contest': Is It Fair Established Artists Are Representing Some States? (POLL)
The point of American Song Contest, hosted by Snoop Dogg and Kelly Clarkson, is to see artists representing the 50 states, five U.S. territories, and our nation's capital competing to win the country's vote for the best hit song. But considering some of the names on the list, is it a given that one of the more recognizable ones will walk away the victor?
The 56 artists range from undiscovered talent, up-and-coming new artists, and rising stars to established and legendary icons. Falling into that latter group are Macy Gray (Ohio), Michael Bolton (Connecticut), Jewel (Alaska), The Crystal Method (Nevada), and Sisqo (Maryland). The artists will "perform a new original song, celebrating the depth and variety of different styles and genres across America," with three rounds of competition (Qualifying Rounds, Semi Finals, and the Grand Final).
Do the rising stars have any chance of winning over viewers for their vote with big names, with established fan bases, in the competition? Maybe if this was done like The Voice, and viewers only heard the songs — though they might recognize the voices — rather than seeing each artist. But maybe we're not giving viewers enough credit. Still, it does seem a bit unfair that some states were allowed to select icons (and leads to the question of why the ones that did did and the ones that didn't didn't).
But it does sound like new artists will be discovered by more people than they would have otherwise, with Atlantic Records releasing the original songs featured each week (beginning March 21 at 12am/11c). "Atlantic Records is thrilled to partner with NBC and all the artists competing on American Song Contest. As an innovative music label, we're always looking for new ways to discover and showcase talent and American Song Contest is the perfect stage for America to see the best of the best from each state and territory," Kevin Weaver, Atlantic Records President, West Coast said in a statement. So even if the winner turns out to be one of the big artists, that may not mean the others are all out of luck.
See Also
Other states are represented by popular local artists who don't have the global recognition.
But what do you think? Is it fair that some states have chosen established artists with big fan bases to represent them? Vote in our poll below.
American Song Contest, Series Premiere, Monday, March 21, 8/7c, NBC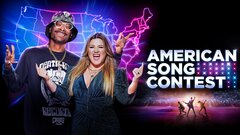 Powered by