'The Last Days of Ptolemy Grey': Go Behind the Scenes With Samuel L. Jackson (VIDEO)
The Last Days of Ptolemy Grey is giving viewers a chance to see Samuel L. Jackson like never before as the iconic actor portrays the titular character of Apple TV+'s upcoming series.
In an exclusive first look at the show arriving March 11, the actor, cast, and crew preview a tale of second chances and making up for lost time. Jackson steps into the role of Ptolemy Grey, a man ailing from the grips of dementia who has been forgotten by family, friends, and even time.
"It's a story of a man who lives in delusions," Jackson explains in the sneak peek featurette, above. Based on Walter Mosley's best-selling book, The Last Days of Ptolemy Grey has been adapted for television by the author who also executive produces.
Offering a clearer picture, Mosley echoes Jackson's statement, adding of the character, "he's in his mid-nineties, he's right there at the precipice of full-out dementia." So, what's a man to do when he's in that state?
"He's far in the back of his own mind," Jackson's costar Dominique Fishback says, adding, "he needs help." And so, her character Robyn, an orphaned teen, does just that. Caring for the elderly man, she's there when a possible breakthrough arrives.
See Also
Actor stars alongside Dominique Fishback in the adaptation of Walter Mosely's best-selling novel.
"They go to a doctor who has this miracle drug," Jackson reveals. In visiting this doctor, Ptolemy's memories are restored, but the effects only last for a month. So, while brief, Jackson explains, "this is an opportunity to reclaim parts of his life that he's been searching for" and "right the wrongs" from his past.
Through it all, the show takes viewers through different time periods, introduces them to a variety of characters, and much more. Get a first look at the action, above, in the exclusive featurette, and catch The Last Days of Ptolemy Grey when it premieres on Apple TV+.
The Last Days of Ptolemy Grey, Series Premiere, Friday, March 11, Apple TV+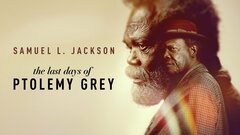 Powered by