'Euphoria': 5 Times Alanna Ubach's Suze Howard Stole the Show in Season 2
That's a wrap on Euphoria Season 2. The HBO drama came to an epic conclusion on February 27. And not everyone made it out alive. Amid all the drama, chaos, and heartbreak of the second season, Lexi and Cassie's mom was the much-needed comedic relief.
Alanna Ubach's Suze Howard was a standout of the second season. Following the intense Euphoria Season 2 finale, we're breaking down Ubach's most memorable moments of the season.
Maddy's Birthday Party
In Season 2 Episode 4, "You Who Cannot See, Think of Those Who Can," Suze pulled a Mrs. George. In her "I'm not a regular mom, I'm a cool mom" energy, she let Cassie (Sydney Sweeney), Lexi (Maude Apatow), Maddy (Alexa Demie), and Kat (Barbie Ferreira) drink at her house for Maddy's birthday.
"Any of you snitches to your parents about this, your days at the Howard House are finito burrito," Suze told the group. "To my beautiful girls!"
While it certainly wasn't the most responsible parental choice, it did allow for a hilarious (and for Cassie, cringingly tragic) night. The moment when Suze dragged the sobbing, vomit-covered Cassie out of the hot tub saying "Get out!" was a hilarious display of physical comedy between Ubach and Sweeney.
See Also
From Rue's ongoing addiction to Cassie and Maddy's big revelation about Nate, Season 2 has been packed with chaos.
Rue's Intervention
When Rue shows up at the Howard house while on the run from her mother (Nika King) and Gia (Storm Reid), Suze welcomes her with a smile and small talk and slyly tries to figure out what's going on with her. Suze held nothing back when looking at Rue's panicked withdrawal state.
"You look terrible," she said. "I mean, really terrible!"
Pressing further, she asked Rue if she was staying clean and how long she's been clean for (knowing full well Rue was lying). And then she cracked some dark humor about AA, telling the story about when her ex-husband tried to get her to go to a meeting "kicking and screaming."
When Rue ran to the bathroom, Suze said, "It's nice to see you! You look great." Then she turned to Lexi and deadpanned, "She's not doin' good."
Cassie's Breakdown
Cassie had a string of breakdowns in Season 2, but the fallout of Rue telling everyone about her secret relationship with Nate (Jacob Elordi) brought more hilarious Suze moments.
In Episode 6, Cassie goes to great lengths trying to convince her mom and sister she's innocent. Suze and Lexi (and everyone else) weren't buying it. Ubach's blunt humor shone as Suze told Cassie the hard truth.
"Yeah, I don't think that's a real airtight defense," she said to the inconsolable Cassie, adding what everyone was thinking, "You're driving me nuts!"
"It's one thing to do what you did, and it's another thing to pretend you're all innocent and it's no big deal."
The confrontation between them ended later with Suze's funniest line of the season: "Oh, she needs a f**king exorcism."
See Also
Plus, the actress talks about working with Zendaya, honing her drama skills, what's next for Season 2, and much more.
Her Reactions to Lexi's Play
Need we say more? The glee and pride in Suze's face while watching Lexi's play was unmatched.
She had the most extra mom energy throughout the entire production, pointing out to the other audience members with excitement that she was the inspiration behind Ethan's (Austin Abrams) performance.
Saving Lexi's Play
After a full season of dealing with an unhinged Cassie, Suze had had enough. She stepped in when Cassie interrupted Lexi's play.
After letting Maddy chase Cassie out of the theater, Suze assured the audience all of the chaos was planned and that Lexi was a genius. Her support of Lexi was heartwarming. And watching her let Cassie experience the consequences of her actions was satisfying, to say the least.
More of Ubach in Euphoria Season 3, please.
Euphoria, Stream Seasons 1 and 2 on HBO Max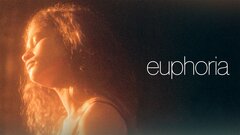 Powered by