'The Walking Dead' Heads to the Commonwealth — Here's What the Cast Has to Say
"That wasn't me," Norman Reedus says with a laugh over a Zoom call with his fellow castmates. "You find out that Daryl has a twin brother." He's joking, of course, about the "Six Months Later" final scene of last week's explosive 11B premiere episode of AMC's The Walking Dead, which sees his grungy biker Daryl removing a Commonwealth soldier helmet, standing alongside the army looking to force entry into Hilltop where a stubborn Maggie (Lauren Cohan) stands guard at the gates.
How did we get here? To find out, we'll have to go much deeper into the seemingly-idyllic Commonwealth, a journey which begins in earnest with this Sunday's episode, "New Haunts." Below, cast members both new and old tease the winding road ahead.
Ice Cream and Hospitals
The Commonwealth has a lot to offer, especially to the group who has just dealt with defeating a group as gruesome as the dead-imitating Whisperers. "I remember when they first got into Alexandria, it was this big shock," recalls Josh McDermitt. "They'd been on the road, running from the cannibals, and then all of the sudden they're at Alexandria where there's running water and electricity. The Commonwealth is that on a larger scale. And I think Eugene's digging that, he's settling in."
Unlucky-in-love Eugene was one of the show's first survivors to encounter the large-scale community, and now that he's found his lady there — Margot Bingham's resident Stephanie — it doesn't seem like he'll be going anywhere anytime soon. As McDermitt puts it: "They have ice cream, and he wants to eat ice cream."
Another survivor determined to make the new lifestyle work is Yumiko (Eleanor Matsuura), who not only has a cushy situation set up for her thanks to her former life as a lawyer putting her into a higher caste than her friends but also because she's found her doctor brother Tomi (Ian Anthony Dale). "He's kind of this advocate for the Commonwealth, which changes her perspective," Matsuura says. "If it were not for her brother, she'd be a lot more cut and dry about the place, but she tries to see the best side of it." She adds: "There's something appealing about being in a place that has hospitals, a school, and a bakery."
Commonwealth's Figureheads
A strong community needs a strong leader, and for the Commonwealth that role goes to Governor Pamela Milton (Laila Robins), a pre-apocalypse politician who managed to begin the community all while raising her son, Sebastian (Teo Rapp-Olsson), now a bossy and spoiled twenty-something. "It's a complicated relationship, as with any familial thing," notes Robins of the mother-son dynamic.
And as much as you'll want to hate-watch Sebastian, Rapp-Olsson offers a slightly different perspective. "This is a family that already has such a legacy before the apocalypse, and then for Sebastian, growing up in this period post-apocalypse, [watching his mother] running one of the most powerful nation-states that we've ever seen in this era, those are some pretty big shoes to fill," Rapp-Olsson says. "We're going to come across a lot of Sebastian trying to figure out for himself what ruling looks like."
Of course, Pamela doesn't run the Commonwealth solo. Her slimy Director of Communications, Lance Hornsby (Josh Hamilton), as we've seen, is the community's one-man welcome committee, and star of its orientation video. "Lance is also sort of the Fixer, and tries to get people to settle to make sure that they can find the place that suits them the best in the Commonwealth," says Hamilton. "He does have a transactional nature in his mind. But it's all in service of something that I think he really believes in. It's really impressive what the Commonwealth managed to create in this world and I think he's a believer in it. It's an easy sell for him." Who else will he try to sell on the Commonwealth Dream?
The Enforcers
An army is another integral part of this society's foundation. Led by no-nonsense General Mercer (Michael James Shaw), who we first met onboarding Eugene, Yumiko, Ezekiel (Khary Payton), and Princess (Paola Lázaro). And at some point, he'll enlist Daryl, as well.
If you think it's a surprising move for Daryl as a character, you wouldn't be alone. Not only did he quickly shun joining the organized Reapers (I mean, they were killers…), but aside from the very few people he trusts, this guy has always been a lone wolf. So, what gives? "You find out the reasons why [he joins] later, but it better be a good reason," says Reedus. "When they first approached me about that [new arc] I was like, 'What are you talking about?' but my feelings towards doing that were kind of Daryl's feelings towards doing that. You'll find out why."
And, can he win over Mercer? "There's a mutual respect that is earned, reluctantly, from both sides," Shaw says. "It's kind of fun to find that, but I'm not sure how it'll pan out."
What About Everyone Else?
While we see that Maggie clearly stays back for some reason, there are also a few other characters possibly wandering about that could lead to an interesting tie-in later on. Negan (Jeffrey Dean Morgan) abandoned the group at the end of the return episode, walking off into the woods, not unlike his departure in the comics, because he and Maggie just couldn't see eye to eye. But Morgan himself is far from done with the show, promises showrunner Angela Kang.
"When [Negan] comes back, he's got some new revelations in his life and his world and what he's going to bring to the table, or wants to bring to the table," Morgan teases.
And then there's also Daryl's former love interest Leah (Lynn Collins), the Reapers' ex-leader. While Maggie did shoot her, it certainly wasn't a killing shot, and then, Daryl let her go. Will she be back before the series concludes? "I think it's a sure bet on this show that if your head's not cut off and you're not stabbed in your frontal lobe, you've got a shot [at returning]," says Collins coyly. Ain't that the truth!
The Walking Dead, Sundays, 9/8c, AMC (episodes release one week early on AMC+)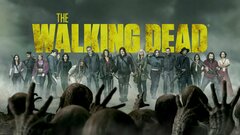 Powered by