'The Equalizer' Reunites Queen Latifah & Jada Pinkett Smith: 5 Things to Expect
It's an on and off screen reunion for Queen Latifah and Jada Pinkett Smith and their characters when the latter guest stars in the very fun February 27 episode of The Equalizer.
The actresses previously worked together in 1996's Set It Off and 2017's Girls Trip, while their characters' past mission teaming up leads to some great banter. In "Legacy," Robyn McCall turns to Smith's master thief, Jessie Cook, when she needs help recovering a valuable painting stolen from a Black family during the 1921 Tulsa Race Massacre.
Here are five things to know about the episode.
Jessie's Unpredictability Makes Her Entertaining … But Not the Best Partner
"What's the point of doing anything if you're not going to have a little fun along the way?" Jessie asks at one point, and oh, does she have fun. She may be the best at what she does, but "she's also out of her damn mind," Robyn says. It's an apt description, as you'll see, just based on what Jessie's up to when we first see her in action and the account of their past joint mission, during which, if you ask her, the thief "improvised." (If you ask Robyn, she nearly got them killed.)
It's an Impossible Heist
Despite that history, there's a very good reason Robyn is willing to work with Jessie again: She doesn't really have a choice. The painting, as she, Mel (Liza Lapira), and Harry (Adam Goldberg) discover, is in a place known as The Vault. It's where billionaires store goods in transit to avoid customs, as a loophole of legality. Think crazy, high-tech security, designed by the best. And what better way to appeal to someone like Jessie than with the promise of bragging rights? Plus, the thief has an advantage, one that Mel understands all too well.
Jessie's Not the Only One Who Improvises
As part of the preparation for the heist, Mel goes undercover at an art gallery to secure part of what they need to get past security. And when she needs to improvise to get everything? Well, we're not surprised by how she goes about doing that.
It's Not About the Money (for Some)
The stolen painting may be worth millions today and for some like Jessie, a heist like this may be about bragging rights (and whatever else may be around to take), but for the client who turns to Robyn for help, it's about something much more important: family. The painting is a portrait that is near and dear to her grandmother's heart, and they're on a clock.
Entertaining Banter
We already knew how well Latifah and Smith work together, and they're so entertaining in this episode. Their banter, written by Talicia Raggs? Perfection, made all the better by just how different Robyn and Jessie are and their history.
The Equalizer, Sundays, 8/7c, CBS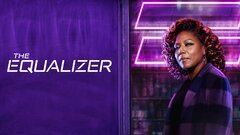 Powered by