Rosario Dawson on What Makes 'Go-Big Show' So Special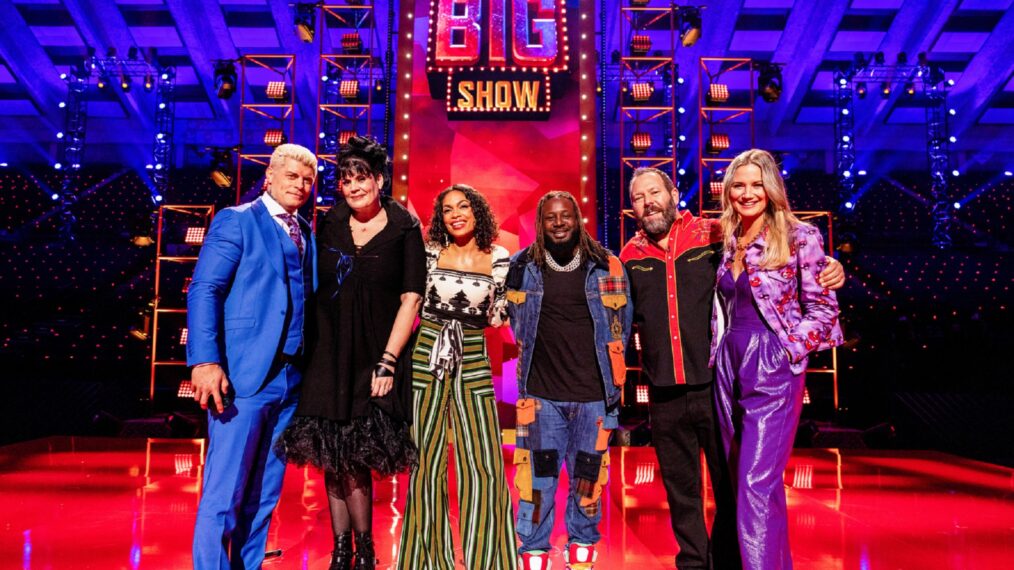 Jaws dropped, records broken, deaths defied, fires lit, nuts kicked. Season 2 of TBS's Go-Big Show features an eclectic mix of unique acts. The head-to-head competition heats up on the extreme competition series with the semi-finals kicking off.
For judge and executive producer Rosario Dawson, the job of deciding who advances to the finale is as difficult as ever. Luckily, she is not alone on the panel: Jennifer Nettles, Cody Rhodes, and T-Pain also have a say on who gets a shot at the $100,000 grand prize.
Before the "Power Tower" fires up for the final rounds, we caught up with Dawson.
How would you compare this season to the first?
Rosario Dawson: I definitely knew to be comfortable, so I can take it all in, because people really brought it this season. The whole experience was pretty novel to us the first year. All of us were better braced. I felt a little bit better about how I could judge the different performances. I was really traumatized in year one, in that it took me a second to really gauge what my score per performance felt the most accurate. I remember Wheelz, I feel I gave a lower score than I would have liked. Everything was based on Wheelz then on and comparing how someone made me feel. You can't really compare someone juggling to someone's balance to someone's arrow shooting. They are varied performances. It's more the feeling you get. That starts to feel clearer and comfortable and obvious, which made it that much more enjoyable.
Tell me about the bond formed among the judges.
I love our group chat. We had so much fun with Snoop Dogg last year. He definitely had the most fun trailer. Although [host and executive producer] Bert [Kreischer] always tried to be right there with him. He even created a little hangout for us to go to, but it was outside and hot. We're all in the same hotel when we are filming. It makes it easier for our teams and our whole flow. We had such a rapport with Snoop. With his mom [passing away], it was really sad not to have him with us.
We are really grateful that T joined us and got it so well. Like Snoop, he was really down and had such an incredible background. Add Jennifer with her one-liners. Cody, who is just a beast physically, comes off that much more measured when he has some kind of criticism to deliver. All of us are just curious people. Bert always has a story about some bear fight he got into. We're all attracted to the bizarre and the unusual and the playful and adventurism. It was a really cool vibe we were able to get between all five of us the first year. It was pretty magical that we were able to attain it this year.
If you could go on the show as a contestant, what kind of talent or act would you bring to the table?
I have pretty good balance. I'm not particularly squeamish. I think I would have to figure out something to do with a spider. I don't know. My friend can touch her elbows together. I've always been super interested in what I call stupid human tricks. I wish I had better ones than tie my shoe while standing on one leg. Again, I do have pretty good balance. I would have to figure out something to use that.
What do you make of the field of talent left?
You have "Kamakazie Kid." Who knew he would have gone ahead or not? We had the hair-aerialists who ended up ducking out. That was so wild and interesting. Annaliese, "The Daredaughter." We had two very daring acts that are going against each other. The stories you get to see in the videos, we actually don't get to see on the day. We have to learn about their background while there. You get really caught up. There is something really cool with "The Daredaughter" that is going to be revealed later. Manu, what he is doing is ballet. It's magical. That storytelling with a beginning, middle, and end. Jose, I love his performance. It's so unusual but so completely different from anything we've ever had on Go-Big Show. Kevin I love. I think what he is bringing to the show is amazing. Such a beautiful, strong man. Gentle giant. Lina Liu with those beautiful fans. She is someone I connected with the Lower Eastside Girls Club. She is going to be doing a performance. The girls will see her perform, and she has a team of people who teach folks what she does, which is so exciting.
This show was produced and launched during the onset of COVID. Entertainers didn't have much work. Many still don't. What does it mean to you to provide this platform for all these acts?
Just as these performers are used to doing events with people in them, we're used to seeing performances live. We're used to going places and being amazed and entertained and blown away and inspired. It was just really beautiful what this show is able to do and the measures that were taken to make it happen during a pandemic and make everyone safe and work in a bubble together to showcase this. To the folks who came through, it was really special. You've seen relationships. People started dating and are still dating who were competing acts. I follow them on social media. People became roommates and friends and combined acts. People were showing up this season because they saw friends in the first one or were inspired by them and wanted to put themselves out there.
There are performers still struggling to have their work. The exposure from this show gives so many the opportunity to grow their interest. I can see people make certain comments where they say, "It's silly," or "What is this?" It's human beings. It's the spectrum of us. There is something that feels like magic, but it's not that. It's real. These people are doing these things, and I get to witness it. It moves me. I've been blown away even intergenerationally. I'll watch it with my family. We're all transfixed when the show comes on because it's something so interesting. There is something wonderful about someone getting into the zone.
Go-Big Show, Thursdays, 9/8c, TBS