'Our Flag Means Death' Trailer Unveils Taika Waititi's Blackbeard (VIDEO)
HBO Max is giving viewers their first look at the swashbuckling new comedy Our Flag Means Death, which is set to premiere Thursday, March 3 on the streamer.
The ten-episode first season from creator David Jenkins and Taika Waititi will debut with three installments. In the weeks proceeding the premiere, three episodes will arrive Thursday, March 10, two episodes on March 17, and the final two installments on March 24.
Loosely based on the true adventures of 18th-century would-be-pirate, Sted Bonnet (played by Rhys Darby), this unique comedy follows his adventures aboard the ship Revenge. After trading in the charmed life of a gentleman for the uncertainty of pirate life, Stede is out of his depth.
Struggling to earn the respect of his crew, who are weighing the risks and rewards of possible mutiny, Stede turns to Captain Blackbeard (Waititi) after a fateful run-in to help him acclimate and survive life on the high seas.
All of this and more are being teased in the trailer for HBO max's comedy, below, from showrunner Jenkins who executive produces the series alongside Waititi, and producers Garrett Basch and Dan Halstead. In the words of Darby's character, Stede considers himself the scariest pirate of all because "instead of killing with weapons, he kills with kindness."
That element of his character doesn't go unnoticed by Blackbeard who muses after some time together, "you're a lunatic and I like it."
Along with Waititi and Darby, the series features stars Nathan Foad, Samson Kayo, Vico Ortiz, Ewen Bremner, Joel Fry, Matt Maher, Kristian Nairn, Con O'Neill, Guz Khan, David Fane, Rory Kinnear, Samba Schutte, Nat Faxon, Fred Armisen, and Leslie Jones among others.
Below, get a first look at the series with the trailer, and stay tuned for the arrival of Our Flag Means Death when it launches early next month on HBO Max.
Our Flag Means Death, Series Premiere, Thursday, March 3, HBO Max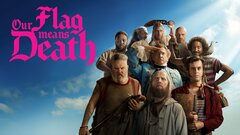 Powered by