Toni Collette Recalls 'Difficult and Intense' Experience of Filming 'Pieces of Her'
The always impressive Toni Collette plays another fierce, complicated woman in the eight-part series, Pieces of Her, adapted from Kim Slaughter's 2018 bestseller. She's small-town mom Laura Oliver, whose secret criminal past catches up with her.
In the premiere, Laura saves her 30-year-old daughter, Andy (Bella Heathcote), and others from a violent attack at a restaurant. She's hailed as a hero, but the subsequent media attention allows very dangerous people from Laura's life to track her down.
"She has felt trapped her whole life," Collette says. When the truth starts to come out, Laura "has the opportunity to find real personal freedom." But Andy feels betrayed by her mother's lies, and subsequently puts herself in danger puzzling together past events.
Flashbacks show the 19-year-old Laura's (Jessica Barden) simmering rebellion against her controlling father (Terry O'Quinn) — which leads to a tragedy involving domestic terrorists.
See Also
The series, based on Karin Slaughter's New York Times bestselling novel, also stars Bella Heathcote.
"Every single day was difficult and intense," Collette says of the shoot. Though it led to an unexpected request on the home front. For a key scene, Collette practiced "a difficult Bach [piano] piece" daily for two weeks that she was "petrified" to play. But it inspired her then-9-year-old son to ask for lessons. Says Collette, "That was the best outcome!"
Pieces of Her, Series Premiere, Friday, March 4, Netflix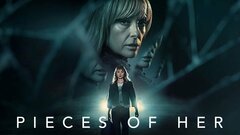 Powered by