Roush Review: 'Pieces of Her' Is Not Exactly a Page-Turner
I tend to get excited when TV discovers my favorite writers of gripping page-turners. Sometimes the results are satisfying: Michael Connelly's Bosch on Prime Video, C.J. Box's Joe Pickett on Spectrum (coming to Paramount+ in May), Craig Johnson's Longmire on A&E, then Netflix to name just a few of the best. But occasionally they fall to dreary pieces, like Netflix's Pieces of Her, a sluggish, overlong eight-part downer based on Karin Slaughter's 2018 stand-alone novel. (ABC is developing a series based on Slaughter's terrific Will Trent mysteries, so I haven't entirely lost hope she'll get her due.)
The hook, as usual with this author, is a good one, providing an early jolt of shock and excitement when speech therapist Laura (Toni Collette) from the sleepy Georgia town of Belle Isle saves her restless grown daughter Andy (Bella Heathcote) from a random shooting attack in the most violent way imaginable. How did mom get such ninja skills? And why exactly does she have a getaway plan that involves a new car, a stash of cash and multiple IDs?
The plot, and there's such a lot of it, kicks in once the media attention about this gone-viral event disrupts their lives, threatening to expose Laura's long-hidden past and sending a panicked Andy on a dangerous journey of discovery. The second half of the disjointed Pieces begins to feel like a Gothic potboiler, as Andy discovers a whole new family she never knew, harboring its own share of potentially deadly secrets.
The gifted Collette brings such relentless anguish to her portrayal of Laura (or whoever she is) that the series never really recovers from this oppressive monotony. It doesn't help that Jessica Barden's sullen demeanor as her younger self makes many of the flashbacks and revelations ring hollow.
See Also
In the Netflix thriller, the award-winning actress' character searches for 'personal freedom' when her criminal past catches up with her.
The time-shifts also dilute whatever suspense there is in Andy's ordeal, which becomes increasingly hard to believe or care about as Pieces of Her lurches to its puzzlingly anticlimactic finish.
Pieces of Her, Series Premiere, Friday, March 4, Netflix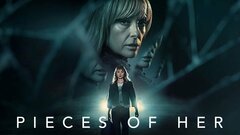 Powered by