'Shining Vale' Cast Talks Balancing Humor & Horror in the Starz Series (VIDEO)
Courteney Cox has a new reason to scream! In the sly horror-comedy, Shining Vale, the actress stars as author Pat Phelps, who's struggling to finish the follow-up to her first trashy bestseller while also making amends for cheating on her husband (Greg Kinnear). The troubled couple tries to start a new chapter by moving their oddball kids (Gus Birney, Dylan Gage) and dog Roxie from Brooklyn to a clearly creepy house in Connecticut — where Pat comes face-to-face with a spectral muse (Mira Sorvino), who seems to haunt only her.
Is it clinical depression or actual possession? Both share similar symptoms and Pat is the lone witness to these supernatural events. She's also being aggressively medicated by a truly terrible couple's therapist. Whatever it is, it's working for Pat's editor, Kam (the fabulous Merrin Dungey), who is just happy to finally be getting some content from her friend. At the same time, the rest of the Phelps family begins to have their own run-ins with the unexpected. And while those developments aren't of the otherworldly manner, they still matter. Especially when Pat's mother (living legend Judith Light) shows up for a spell.
There are some A+ jump scares and laugh-out-loud moments, for sure, but Vale's true thrill is seeing Cox finally get to apply both her wicked comic timing and wildly underrated abilities as a dramatic actress. As fantastic as she is in the Scream franchise, it's a joy to see her really sink into a character that gets to space to evolve beyond the usual 100 minutes of a horror movie.
Watch our interview with the cast in the video above
Shining Vale, Series Premiere, Sunday, March 7, 10:20/9:20c, Starz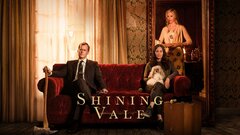 Powered by