'Shining Vale': Courteney Cox & Greg Kinnear Have a Haunting Good Time in First Trailer (VIDEO)
Starz is unveiling a first look at its upcoming horror-comedy Shining Vale with a full trailer and key art featuring stars Courteney Cox, Greg Kinnear, and Mira Sorvino.
The series is set to premiere Sunday, March 6, with two back-to-back episodes on Starz and the Starz app along with all Starz streaming or on-demand platforms. Shining Vale tells the story of Pat (Cox) and Terry Phelps (Kinnear) a couple who cashes in their life savings to move from their tiny Brooklyn apartment into an old Victorian mansion in Shining Vale, Connecticut with their two kids.
The move comes as an attempt to salvage their marriage after Pat's affair with a young, hot handyman while Terry was at work. Described as a former "wild child," Pat rose to fame by writing a raunchy, "drug-and-alcohol-soaked" women's empowerment novel, but 17 years later, she's clean, sober, and unfulfilled.
As teased in the trailer, below, Pat is going to try and turn her luck around despite being in a zestless marriage and playing mom to daughter Gaynor (Gus Birney) and son Jake (Dylan Gage), who pay her little attention. On a mission to create her next big work, Pat attempts to find inspiration, but things are a little too lively for her taste when she spots a spectre named Rosemary (Sorvino) in her window.
See Also
Cox's character tries putting a shameful infidelity behind her by moving the whole fam to a quiet Connecticut town, but there are a few catches.
The apparition of a '50s housewife is just one of the many haunting aspects of the Phelps family's new home as they learn it's the site of a triple murder-suicide. How will they cope? See how the comedic action unfolds in the full trailer for Shining Vale, below, and don't miss when the series arrives on Starz this March.
Shining Vale, Series Premiere, Sunday, March 6, 10:20pm ET/PT, Starz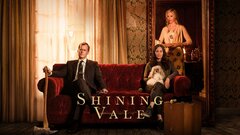 Powered by