Roush Review: NBC's 'Endgame' Plays a Familiar Game of Intrigue
In the custody of federal agents who have yet to realize their captive is actually pulling the strings, glamorous international femme fatale Elena Federova (Homeland's Morena Baccarin) snarls, "You've messed with the wrong woman." Later in the overheated yet half-baked pilot of NBC's The Endgame, we hear Elena's FBI foil, disgraced agent Val Turner (Ryan Michelle Bathé), growl, "You have no idea who you're dealing with."
Oh, Val, if only that were true.
We've all seen too many convoluted thrillers that tease out their endgame beyond the point of endurance. The Endgame is the sort of show that believes it can compete with an international hit like Money Heist by staging seven simultaneous bank takeovers, while giving us precious little reason to care what happens in any of them.
Sporting a Cheshire cat grin, Baccarin preens as the self-described "queen" of arms traffickers, recalling for a moment the Anna of Netflix's Inventing Anna when she demands a better wardrobe while biding her time in a dreary bunker. She seems to take a special delight in needling Agent Val, whose reputation took a hit when she helped put her own husband behind bars on a bribery charge. (Typically for this type of series, not even that backstory is what it appears to be.)
So what's this queen's gambit, anyway? If the first two episodes available for review are any indication, Elena has her own (sigh) blacklist of corrupt U.S. government types she means to expose and bring down through preposterously elaborate means. Because leaking to the New York Times wouldn't be nearly as credible.
More compelling than the cat-and-mouse—make that tiger-vs.-tiger—games of Elena and Val are the flashbacks into Elena's past in a war-torn Ukraine with husband and partner-in-crime Sergey (The Americans' Costa Ronin). Tragedy and the element of surprise make this Elena far more interesting than the smug puppeteer of the present-day storyline.
I don't much care about her endgame, but how it all started has its moments.
The Endgame, Series Premiere, Monday, February 21, 10/9c, NBC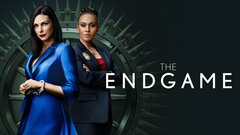 Powered by