Can't Miss Episode of the Week: 'How I Met Your Father'
Welcome to our weekly column Can't Miss Episode of the Week! Every Saturday we'll be spotlighting a different episode of television from that week that we thought was exceptional and a must-see. Check back to see if your favorite show got the nod — or to learn about a new one! Spoilers ahead.
How I Met Your Father — Hulu's spinoff of the iconic CBS sitcom How I Met Your Mother — has big shoes to fill, and while it's nowhere nearly as humorous as the original, the February 8 episode, titled "The Good Mom," is the first in the series where all the elements really come together. As shenanigans ensue when Sophie's (Hilary Duff) promiscuous mom, Lori (Paget Brewster), unexpectedly shows up, the show proves that it can deliver a funny and comforting episode.
Sophie's backstory of moving around a lot as a child as her mom went from one relationship to another is too interesting to only be occasionally referenced, and this episode smartly dives straight into it. Sophie's often a hot mess, but having her mom around sends that into overdrive as she cancels plans with new boyfriend Drew (Drake & Josh's Josh Peck as the dreamy romantic interest he was always meant to be) to meet her mom's latest boy toy Ash (Mason Gooding), a musician playing in town that night. All of this against best friend Valentina's (Francia Raisa) sage advice to not once again get caught up in her mother's drama.
One thing that really works about this episode is that Valentina's storyline is split from her British boyfriend Charlie (Tom Ainsley). While the show has spent far too much time already on this mismatched couple, we get to explore Valentina and Sophie's friendship this episode, as Valentina works hard to get her friend to see her mother clearly for the first time. It also frees up Charlie to have some fun of his own. His mission this episode is to try to fix his friends' emotional problems. As a rich kid trying to make it on his own for the first time and is a little clueless about the world, Charlie often feels like little more than a gimmick. Having him connect with the other characters makes him feel more fleshed out.
What problems is Charlie trying to fix? Well, Sid realizes that the poster with the model on it that he first masturbated to is actually Lori. Meanwhile, Jesse (Chris Lowell) is still traumatized from his failed proposal to his girlfriend (Leighton Meester). Charlie is improbably good at this, as he gets Sid (Suraj Sharma) to confidently buy Lori a drink to assuage his embarrassment, and takes Jesse to the club where he proposed, so that he can finally start to move past it. Of course, after finding out that a career in psychiatry involves many years of schooling, he decides to become a bartender at Sid's bar so he can listen to people's problems there–how convenient.
See Also
Just in the first three episodes, we met five possibilities.
But probably the funniest Charlie moment comes from Ellen's (Tien Tran) arc, as she meets Rachel (Aby James), a hot woman across the hall attending her grandmother's shiva. Caught off guard sneaking some tomato slices from the shiva food, Ellen lies and says she was best friends with Rachel's grandma. Trying to cover up her lie, she asks Charlie, who's also her roommate, for advice since it turns out he's actually friends with all the old women in the building. This little detail about Charlie is hilarious, totally in character, and helps him feel more entrenched in the world of the show. While Ellen's ultimately found out, we've hopefully not seen the last of Rachel since she's moving into her grandmother's apartment, and seems perfect for Ellen.
The one part of the show I'm still not convinced of is Kim Cattrall as the older version of Sophie. While Sophie expresses vulnerability this episode and has some really good story beats realizing that it isn't Lori's boyfriends who treat her badly, but it is Lori herself who creates chaos, Cattrall expresses the opposite in her body language whenever we see her. Her arms are tightly crossed over her chest, distancing her from the audience.
Luckily, Duff carries the character through with a strong performance. After Sophie confronts her mom, she chooses herself for once, and goes to Drew's to catch the rest of game night. His method of inviting her in by playing charades is so cute, it's enough to get invested in them as a couple if you haven't already.
Other observations we thought made this episode stand out:
Jesse defending his drink of choice–a cosmo–is completely endearing.
Leighton Meester is far too big an actress to just have that small cameo, so hopefully we'll see her again in a more significant capacity.
How I Met Your Father, Tuesdays, Hulu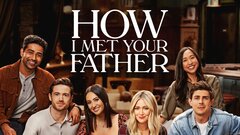 Powered by