'Conversations With Friends' Teases a Secret Affair in First Trailer (VIDEO)
The first trailer for Hulu's highly-anticipated new drama Conversations with Friends has arrived and it's teasing one steamy secret affair.
The limited series is an adaptation of author Sally Rooney's novel and follows her previous series with the streamer, Normal People which starred Daisy Edgar-Jones and Paul Mescal. The show is a co-production between BBC Three and Hulu, the latter of which unveiled the trailer on YouTube.
In the first look, viewers get a peek into the lives of Frances (Alison Oliver), Bobbi (Sasha Lane), Melissa (Jemima Kirke), and Nick (Joe Alwyn). Tension encircles this group which is made up of friends and former loves, Frances and Bobbi, who become acquainted with Melissa and through that friendship, Melissa's husband Nick.
The 12-episode series will officially arrive in May 2022 and will follow the story through 21-year-old college student, Frances' eyes, as she navigates this complicated entanglement of relationships that somehow find her tied to Nick. Forced to evaluate her vulnerabilities, Frances will be led down a path of self-discovery that could impact everyone in her circle.
As teased in the trailer below, Frances begins to question everything around her, "wouldn't it depress you to sleep with someone who loved someone else?" she asks. Bobbi answers candidly, "not if they loved me too."
What follows for Frances is a secret relationship with Nick who remarks, "I can't believe we just did that," following a steamy hookup. "Yes, you can," Frances argues. As the trailer continues Nick says, "what we're doing is insanely risky," and while Frances agrees that it's "extremely" risky, there seems to be no end in sight for the duo. Catch the full trailer, below, and don't miss the arrival of Conversations with Friends this May on Hulu.
Conversations with Friends, Series Premiere, May 2022, Hulu and BBC Three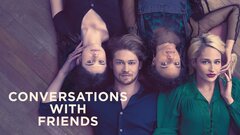 Powered by