'Savage Kingdom': On Safari With the Wild New Docu-Series
When you're a filmmaker aiming to create a wildlife documentary unlike any other, you have to be a little different yourself. So it's no surprise that Savage Kingdom producer and cinematographer Brad Bestelink, a burly, sunburned former rugby player who's been shooting nature specials for two decades, is peering trough a camera in an open-sided safari vehicle deep in the Botswana bush—talking quietly to a leopard.
Make no mistake: This is no "here, kitty-kitty" moment. The sound of Bestelink's voice is just something the cat, a young male named Neo, has gotten used to, like a distant lion's roar, or the wind in the acacia trees. The familiarity, built over months, allows the camera to get close without disrupting behavior. Only feet from the jeep, the lithe, spotted youngster stalks his own father, who's stolen his son's giraffe-leg dinner. The prince-versus-king moment plays out like a scripted drama—exactly the feel Nat Geo Wild hopes to deliver in Savage Kingdom.
"Game of Thrones was our shorthand for what we wanted to do," says Bestelink, referring to the lavishly produced hit HBO series about noble families fighting for control. "In Savage Kingdom a drought forces predator animal families into Botswana's Savute Marsh; they fight over the same terrain and jostle for survival. It's about power, lust, revenge and competition."
RELATED: Get a Look at the Mega Hammerhead That's Part of Nat Geo Wild's "SharkFest" (VIDEO)

Each of the three episodes explores the battle through a different killer's eyes. Lioness Matsumi is a queen who must balance being her pride's best hunter with fiercely protecting her cubs; Matsumi's rival for survival is super-smart and scrappy loner leopard Saba (her son Neo debuts as a vulnerable newborn); Zalika is a fast-thinking hyena empress; and then there's ruthless killer and king of the wild dogs Molao.
To add to the dramatic intensity, the network found a narrator in Game of Thrones alum Charles Dance, who played power-hungry patriarch Tywin Lannister. (Take note, Neo Sr.: Tywin was murdered by his own son!)
"Looking at this landscape, you see how hard it is for these animals," says Dance, who has joined Bestelink on a day when the dry season temperatures reach 102 degrees, and thirsty beasts crowd around shrinking watering holes. "The stuff the filmmakers shot is mind-blowing. What makes it even more amazing is you can't say, 'We need another take! Get that leopard back. Makeup!'"
Even without makeup, wardrobe or special effects, Savage Kingdom is Nat Geo Wild's most expensive wildlife documentary ever. Over nearly two years, five crews—often working in tandem to capture events from different animals' perspective—shot 20,000 hours of footage with the latest digital cameras. They spent eight-day stints in the bush, sleeping on their vehicle rooftops and cooking by campfire.
"Brad and Co. live here year-round and know the animals, so they can get into their secret lives," says Geoff Daniels, executive vice president and general manager for Nat Geo Wild. "That allows viewers to relate to the wildlife in a deeper emotional way, creating a different experience than just giving them facts. This is the beginning of us setting a higher bar for natural history programming."
RELATED: 20 Gorgeous Photos to Celebrate 15 Years of the Nat Geo Channel
Savage Kingdom will air with limited commercials, to avoid taking away from viewers' emotional involvement, which could be intense. One shocking incident was so heartbreaking, Bestelink says he had to pack up his camera and take a break from shooting.
"You can't make a film about predators without showing the end result of what they do," Dance says. "And as in Game of Thrones, when you least expect it, somebody gets a head chopped off or their throat cut."
Savage Kingdom, Series premiere, Friday, Nov. 25, 9/8c, Nat Geo Wild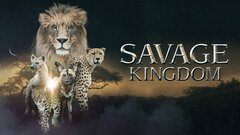 Powered by