What's Worth Watching: 'Better Things', 'The Big Bang Theory', 'Superstore', 'Mom' and more for Thursday, November 10
Figuring we could all use a laugh after this week's grueling events, so today's column will focus primarily on comedy.
Better Things (10/9, FX): Top of the list is the first-season finale of Pamela Adlon's terrifically tart, sour-sweet ode to modern motherhood. "I suck as a daughter, suck as a mom," laments Sam (Adlon) on another maddeningly overwhelming day of domestic chaos, which includes a startling admission by middle daughter Frankie (Hannah Alligood) that has her school in a tizzy.
The Big Bang Theory (8/7c, CBS): You'd think the parenting gene might be especially dormant in a bizarre brainiac like Sheldon Cooper (Jim Parsons), but a science experiment inspires him to lobby his long-suffering girlfriend Amy (Mayim Bialik) to make a baby. (Methinks they should binge-watch Better Things first.)
Superstore (8/7c, NBC): Going on hiatus to make way for a late-season run of Thursday Night Football starting next week, the likable workplace sitcom airs back-to-back episodes. In the first, Amy (American Ferrera) is unsettled when her husband Adam (Ryan Gaul) is brought on board Cloud 9 as a seasonal employee. The second episode unleashes a bout of food poisoning on the crew just in time for Black Friday.
Mom (9/8c, CBS): Another showcase for the Emmy-winning Allison Janney as Bonnie, whose insecurities are stoked when she discovers her boyfriend Adam (William Fichtner) is smoking pot before taking her to bed. Could it be that she's undesirable? Or maybe that she's such a handful that it's only way to stay mellow in that chaotic household.
Inside Thursday TV: ABC's Grey's Anatomy (8/7c) tends to be at its best anymore when it sidesteps the suds for a true medical emergency. Which makes this week's episode sound especially enticing, as a life-and-death case triggers memories for Meredith (Ellen Pompeo), Richard (James Pickens, Jr.), Owen (Kevin McKidd) and Stephanie (Jerrika Hinton). … 20th-century history factors into The CW's Thursday night fantasy series. On DC's Legends of Tomorrow (8/7c), the team jumps to President Reagan's White House, where they discover the notorious Damien Dahrk (Neal McDonough) is serving as a senior advisor. Just say no! … A vintage pocket watch containing the soul of Adolf Hitler occupies the brothers Winchester on Supernatural (9/8c), as they try to keep the possessed trinket from falling into the hands of Nazi necromancers. Because that would be bad. Worse even than this week.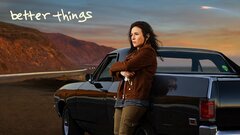 Powered by