'The Middle's Eden Sher on How Sue Heck is Growing Up, and More About 'The Emotionary'
A few weeks ago, we talked to Eden Sher about some of the entries from her new book The Emotionary, a guide to new words that she has made up over the years to describe feelings that didn't have terms defined for them. Equally entertaining, though, are the illustrations by Julia Wertz, who combined the Julia character she had already established with a not-far-off-reality cartoon version of Sher to create funny panels that supported the definitions Sher made up.
Sher talked with us some more about the book, especially about her relationship with Wertz, and talked about the continuing maturation of her character on The Middle, the ever-optimistic college sophomore Sue Heck.
RELATED: The Middle: Frankie Gets a Fright From Her Kids (VIDEO)
Hi, Eden. How are you?
I'm good. Had a great, busy day. My favorite kind of day. How are you?
Very busy, and it's my kind of day as well.
Right? It's almost like I can't focus if there's too few things going on.
But that's good. Then you don't have to worry about down time.
Exactly. I'm just going to jump straight in, because I would have done this anyway, because I'm obnoxious and use my own words all the time. I was going to say I have a word for exactly this feeling, which is just "inrelaxability." It's the anxiety of having free time.
Were you friends with Julia Wertz, who did your illustrations, before starting the book?
We were not. I emailed her as a fan asking if she wanted to work on this book. We were friends in that we emailed before. This is when [The Emotionary] was just barely a website, and I was like, I think this could be a book but I need to get myself together and make this a proper proposal. I emailed her asking if she'd be willing to help me with this thing that I'm working on. I'm a huge fan and that's why I never expected any sort of a response. It was more like pie in sky if I could get the perfect illustrator.
Then we just ended up clicking like crazy and we emailed back and forth for months. Even after we were sort of done illustrating because I feel like we're like, "How are you? How's this crazy love life of yours? How's yours? It's so crazy! Me too!" I remember when I was talking about a guy I dated who was an illustrator. This lady, her response was, "Illustrator? Why would you date an illustrator? We're the worst." And I was like, this is my kinda gal.
The illustrations make it seem like it's like you guys are like long time buds who sit there and commiserate about your lives, and she knows you and you know her. Because I'm guessing the two characters are the two of you.
They're 100 percent the two of us. In fact, it was so surreal when the first illustration came back because, again, I'm a super fan so that character of hers, that's established in all of her other work, which are, for the most part, pretty autobiographical.
She's saying that's me, so to see a version of me in it entering this world was insane. I loved it. I mean totally. It was crazy. Not happenstance, I totally made it happen, but we just happened to click way more than I ever … These illustrations could have been good, but instead they make the book.
How much of Eden in the illustrations panels is Eden in real life?
I'd say 90 percent. It's like a heightened version of me. Actually Julia gave me this tip which was so helpful and changed my perspective on just writing in general. I was like me at my most a–hole. At my most id level. It's kind of boring when you're seeing someone complain and be just stupid, as opposed to seeing somebody being like, "I know I'm being stupid. Don't judge me for this." Being very self-aware and nonjudgmental of themselves.
That's the whole book in general; all of these feelings are 100 percent me, but in my real life I'm in therapy and I've gone through … I'm on the other side of the self-loathing and shame. I'm so, so open about [having] stages [of] hating myself, [being] really angry at most things all the time, [being a] control freak. In real life, they're there, but I keep those things way more in check than the version of me that's in the book.
That's also being older, I guess. That helps, too, I would imagine.
Completely. When I started this I was in such an emotionally raw place. Now, four years later … Actually, making the book has allowed me to work through most of these feelings, so that it solved itself. It was kind of interesting because I had to take some time off [from the book] while working on The Middle because it takes up so much time. At first I was so stressed out about it. I was like, "Oh my God I'm never going to finish this. I'm so stressed. I have deadlines. I'm too tired. I can't do it." But I think having that sort of distance was the best thing that could have possibly happened because you can't write about an experience when you're still in it.
Oh, I wrote all the brain vomit. Then I went and had a lot of therapy and sort of reflected on it … I resolved it and then when I looked back on it I could really … It's like that's why the comics are so funny. I mean, I think they're great. Then I can look back and be like "Oh I'm so stupid! This is hilarious! Oh my God." Some of these journal entries I have I'm just like "What is this crazy person? What a lunatic!"
RELATED: The Middle Debuts Season 8 Art
Do you think there might potentially be a Julia and Eden web comic series coming out at some point?
We shall see. We'll see what's in the future. I don't think I'm ready to give up on this little duo. I really feel about it like she's so humble about this being my book that she illustrated and while that's true that this definitely was like my brainchild, I think it's like writing a movie. The writer is totally there, they invented it, but it's not a movie without it being made and having actors do it. The book would just be a skeleton. Then she brought it to life and just made it something so much more than something I ever could have dreamed of.
OK, on to The Middle. The episode where Mike (Neil Flynn) sells his diaper business to pay for Sue's college after she forgets to renew her financial aid had an emotional punch. His reason was "It's Sue." Was that moment the eight years of the show and your character in a nutshell?
I think a little bit. I think [executive producers DeAnn Heline and Eileen Heisler] are really good at finding these little nuggets and finding these moments that like every so often unconsciously remind everyone, "Hey this is eight years in the making. We've known these people for eight years." We really have strong investments and relationships in these people and it's those tiny little things, those little lines that just sort of very cryptically encapsulate, "Oh yeah this is a relationship that I really care about. I forgot about that." That's great. I like that.
What areas of growth are we going to see from Sue this year?
That's a great question. It's such a boring thing to say we'll wait and see but it kind of is. Honestly I don't even know fully yet. I don't know exactly where they're planning on seeing her. Each episode is definitely still standalone. We've never had a season where each episode actually affects the next one as much. Where's Sue going? I don't know but I will say that it will make sense, but like that boyfriend … That whole thing is a story and it's going to be a story of shaping [Sue] too. We'll have payoff and actual progress. I think this is going to be a season of growth for sure.
Can you see Sue, Axl (Charlie McDermott) and Brick (Atticus Shaffer) still growing and changing when they're not going to be at home any more?
What a great question. I have no idea. I mean I have some. I think the writers have way more of an imagination than I do. In my own life I kind of can't see past five minutes from now. I have no idea what I'm going to say, what word is going to come out of my mouth right now. I don't know. I feel like they really are sort of real, fleshed out human beings but I feel totally unable, I think they would have a life outside of it but I'm so unable to envision it. I don't know what it would look like.
We've got three more years of Sue being in college so that helps.
That's true. Maybe also the fact that when I was 19 I had no idea what was happening in my life. I had such concrete plans and simultaneously had no idea what would happen an hour from now. I had goals but like so vague, they're like so specific but so vague.
Are we going to see the way Sue dress change again this year? Are we going to see the essence of Sue be there but Sue's look and manner change again as she becomes more grown up?
I think it's absolutely going to be a slow burn. A slow burn just because it sort of has been. I never even realized I had to take pictures for archives or something like that and so I had to be in wardrobe from season one and I was like, "Oh my God the wardrobe really has changed." I think it's just going to sort of keep going in a natural progression of how an adult would dress but I don't know. My wardrobe this year's been super cute.
Would you want Sue to still have that positive attitude despite having now life experience?
I mean, yeah. You don't want to see someone's spirit ever get crushed. Again, I think they've done a pretty good job with making the naivete sort of naturally phase out. Keep the core values of optimism and not giving up and all of that stuff but also make it realistic.
In the intro to your book, you mentioned that even into your teenage years you were still very non-verbal as far as expressing emotions. I didn't even know that was kind of a thing but I guess a lot of people are like that.
Yeah. I feel like I have this conversation with other people where I'm like, "Really? You didn't feel terrified all the time because you just didn't know how to express anything?" They're like, "Not really" and then it sort of goes into like "Well, is it maybe sort of it's just a brain to brain thing." Like maybe this [person] didn't have quite as many feelings. Which is not to say it's any sort of belittling of one's ability to feel things at all. It's so impressive when teenagers or anyone under the age of the current age that I am at any given point is able to articulate themselves or feel any sort of resemblance of calmness. That's like amazing and insane to me.
What do you want people to get out of the book?
That's a complicated question. I don't know. I think each person… OK, my hope is that, I think I said this in the intro even but that first and foremost it is just funny. Like somewhat funny. I hope that someone thinks it's as funny as I do. Then again if there's any sort of feeling of feeling understood in any way, even an unconscious feeling of relief or like alleviation of some kind. Alleviation of the pressure of feeling feelings, sort of feeling all the feelings. Then, I don't know.
I feel it's so self-righteous and self-aggrandizing to say like, "Yeah this book is like a form of therapy," but if it resembles therapy in any way … I was just talking today about how it felt like the idea of something being a self help book is a little crazy but then I realized well this book's sort of … It is a self help book, for myself, like for the self that is Eden. In writing this I learned that a lot more people are like me than are unlike me and if it helped the self that is me then if it could possibly help the self that is someone else that would be super cool. It would be like hella validation for me, that's the most important part.
The Middle, Tuesdays, 8/7c, ABC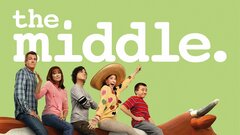 Powered by