'The Middle' Debuts Season 8 Art
Ready to go back to The Middle?
The Hecks, lead by two-time Emmy-winner Patricia Heaton and Neil Flynn, are back on October 11, which marks its move to Tuesdays at 8/7c. ABC today released the new Season 8 key art exclusively to TV Insider.
RELATED: ABC Announces Fall Schedule: The Middle Moves to Tuesdays, Shonda Block is Broken Up, and More
While the move to Tuesday is new, the Heck children – Axl (Charlie McDermott), Sue (Eden Sher) and Brick (Atticus Shaffer) – continue to grow up and will find new situations that will get them out of their comfort zone, which may or may not be a good thing for parents Frankie (Heaton) and Mike (Flynn). In fact, for the oft-weary parents, as the empty nest syndrome gets bigger and bigger, expect it to be increasingly harder for them to let go.
Check out the new key art below.
The Middle, Season Premiere, Tuesday, October 11, 8/7c, ABC.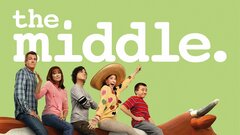 Powered by