Time Running Out on 'La Brea,' Back to Oak Island, 'Stargirl' Finale, Rap Battle on 'Queens'
History's popular treasure-hunt docuseries The Curse of Oak Island is back for a ninth season. The sinkhole survivors of NBC's La Brea worry the window is closing on their hopes of escape. DC's Stargirl wages an epic battle against Eclipso in the Season 2 finale. But that may pale beside the rap battle between Eve and Brandy in ABC's new hip-hop soap Queens.
La Brea
When I tease that "time is running out" for this preposterous sci-fi adventure, fans shouldn't worry. There are still several weeks left in the 10-episode first season, and it will almost surely be renewed for a second. We refer to that glowing portal in the sky that separates the sinkhole survivors from the present-day topside world they came from. Last week, we learned it's due to shut down, potentially trapping them forever. Or until it opens again and drops a bunch more sad sacks among them. They plan one last escape attempt until somehow receiving a dire warning from Gavin (Eoin Macken) up above that it could end in disaster. What else is newGive these brothers credit for persistence.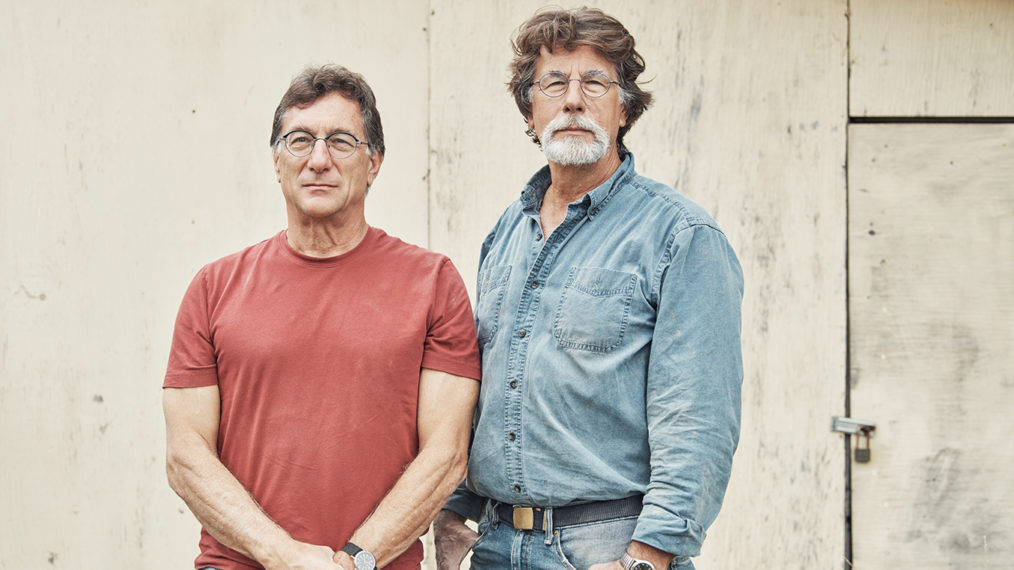 The Curse of Oak Island
The search for treasure on the fabled Nova Scotia island continues for a ninth highly rated season, with Marty and Rick Lagina and their team re-energized after the news from geoscientist Dr. Ian Spooner that a major vein of silver lies near the well-named Money Pit. (So why is the two-hour opener titled "Going for the Gold?") Preceded by an hourlong curtain raiser titled "Drilling Down: Dawn of the Dig."
Stargirl
The rousing superhero series ends its second season with the evil Eclipso (Nick Tarabay) revealing the final part of his master plan. Which means it's time for Courtney (Brec Bassinger), Pat (Luke Wilson) and the Justice Society of America to unite to stop the fiend once and for all.
Queens
It's a rap battle for the ages when Eve (as Brianna aka Professor Sex) and Brandy (as Naomi aka Xplicit Lyrics) go at it during a debate among the Queens about the direction of their music and image for their 20-years-later comeback. The soul-searching is prompted by their first solo show, which even they have to agree with the critics that it stunk up the room.
Inside Tuesday TV:
The World Series (7:30/6:30c, 4:30/PT, Fox): The fall classic returns to Houston for the sixth and possibly final game, with the Atlanta Braves leading three games to two over the Astros.
The Voice (8/7c, NBC): As a pause between the Knockouts and next week's Live Playoffs, the coaches look back at the best moments of the season to date, spotlighting the contestants who've made it this far.
Impeachment: American Crime Story (10/9c, FX): After the media tsunami, it's time for Monica Lewinsky (Beanie Feldstein) and Linda Tripp (Sarah Paulson) to tell their sides of the tawdry story to a grand jury.
FBI: Most Wanted (10/9c, CBS): Special Agent Hana Gibson (Keisha Castle-Hughes) returns to the Fugitive Task Force after her family emergency, only to realize the team isn't the same as she left it.
New Amsterdam (10/9c, NBC): Iggy (Tyler Labine) is pressured by Dr. Fuentes (Michelle Forbes) to take on patients again. Finally, something we agree about with this overbearing bean-counter.
Undercover Underage (streaming on discovery+): A six-part true-crime docuseries follows child advocate Roo Powell, founder of SOSA (Safe from Online Sex Abuse), as she enlists a team to help craft this 38-year-old mother of three into a teen persona. When predators reach out to her, told from the start they're speaking to an underage girl, the race is on to smoke out their often fake identities before they realize Roo isn't who she says she is.
The Cleaner (streaming on BritBox): British comedies don't come much more offbeat than this whimsical yet macabre character study of Wicky (Taskmaster's Greg Davies), whose dirty job it is to clean up after gruesome crime scenes. He compensates by chatting up anyone in his vicinity, from the victim's family to possibly even the killer. Guest stars include Helena Bonham Carter and Peep Show's David Mitchell.
Single Mother by Choice (streaming on HBO Max): If this movie feels particularly real, it's because it covers its star Selina Ringel's real-life pregnancy during the pandemic, month by month, as it happened. Directed by her husband Dan Lev Dagerman, Single Mother tells the story of a single workaholic Latinx woman determined by have a baby on her own terms, a goal complicated by the 2020 pandemic.