'Rectify': Janet Is Determined to Reunite With Daniel (VIDEO)
Rectify's final season kicked off last week with an episode devoted entirely to Daniel (Aden Young) adjusting to his new life at a halfway house in Nashville. Separated from the rest of his family after being banished from his hometown last season, the characteristically taciturn ex-con is, unsurprisingly, having trouble making friends with his new housemates. And it seems he's also been dodging his family's attempts to keep in touch.
RELATED: Rectify: Exiled Daniel Heads to Nashville as the Final Season Begins
In this clip from the season's second episode, Daniel's mother Janet (J. Smith-Cameron) decides she's going to do something about that.
Judging from the clip, things are still tense between Janet and Ted Sr. (Bruce McKinnon) after last season's revelation about Daniel's assault on Ted Jr. (Clayne Crawford), but it seems like they may be getting better. If anyone deserves some good luck—and maybe even a happy ending—it's the Holden-Talbot clan.
Rectify, Wednesdays, 10/9c, SundanceTV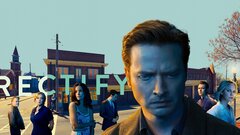 Rectify
where to stream
Powered by