Roush Review: Musical Comedy Fantasy on 'Crazy Ex-Girlfriend'
People keep telling me about this terrific new show they discovered this summer on Netflix. Something about a crazily obsessive ex-girlfriend who regularly bursts into song, with one ribald production number topping the next. When I tell them I've been beating the drum tirelessly for a year about this fabulous series—which aired first (and is still airing) on The CW, by the way—they smile a bit sheepishly while I imagine a thought bubble over their head going, "What's a CW?"
Happily, our love affair continues, though it still feels a bit like a secret tryst, what with the network shuffling this acclaimed but chronically low-rated odd duck off to Fridays, with the promise of another Netflix binge awaiting fans shortly after the 13-episode season ends sometime this winter or spring.
More Roush Reviews: See What Matt Thinks About Other Shows
Why wait? No time like the present to celebrate the award-winning manic exuberance of Crazy Ex-Girlfriend's creator-star Rachel Bloom as Rebecca Bunch, the most twisted variation yet on a That Girl romantic heroine. (Just watch what she does to Beyoncé's Lemonade in the season premiere, expressing her longings through abstract symbolism.) The delirious Crazy is a rom-com for those who shirk the genre, hewing to but subverting the conventions, including the all-important love triangle—which Mindy Kaling recently described (on the season opener of Hulu's The Mindy Project) as "the sexiest of all shapes."
Rebecca would agree. In a hilariously splashy and deranged song-and-dance in the November 4 episode, inspired by Marilyn Monroe's "Diamonds Are a Girl's Best Friend"—or Madonna's "Material Girl," depending on your generation—she dissects "The Math of Love Triangles" surrounded by a chorus line of gay professors. "Whichever Tom or Dick I might pick, the center of the triangle is little old me," she coos delusionally.
RELATED: My Love Letter to a Crazy Ex-Girlfriend
Because the truth is that neither of her choices are exactly prizes: adorable but dim Josh (Vincent Rodriguez III), for whom she left Manhattan to relocate to the backwater of West Covina, CA; or broken and self-loathing Greg (Santino Fontana), who might actually be a better fit. Despite their shortcomings, and Rebecca's lack of impulse control, you root for them all to be happy. And that includes supporting sidekicks like the dynamic Donna Lynne Champlin as loyal co-worker Paula, who's trying to kick her Rebecca addiction, and Pete Gardner's affably daffy and proudly bisexual boss Darryl.
I'm crazy about them all, and you should be, too.
Crazy Ex-Girlfriend, Season premiere, Friday, Oct. 21, 9/8c, The CW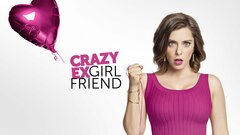 Powered by