'Insecure's Yvonne Orji on Playing Issa Rae's Lovelorn Buddy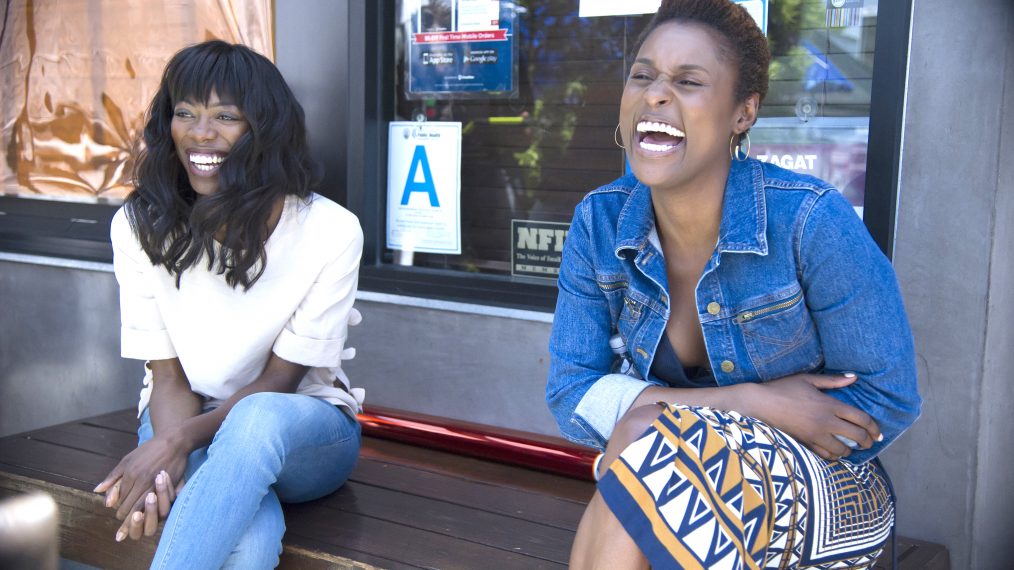 Yvonne Orji is so good as Compton-bred, lovelorn L.A. lawyer Molly on HBO's Insecure that it makes you mad at Hollywood for not finding her earlier. Then again, they have a good excuse: After earning her master's in public health, she decamped to do aid work in Liberia.
It wasn't until after 2010, when she relocated to California to try stand-up, that the Nigeria-born comic hooked up with Insecure writer-star Issa Rae. And Rae had the good sense to hire Orji to play Molly, her self-named character Issa's best friend on the show. We talked to Orji (above left, with Rae) about Sunday's episode, in which Molly takes center stage by committing quite a few crimes of the heart.
RELATED: Insecure's Issa Rae Talks About Being a Regular Person
Why is Molly intent on screwing up her relationship with rental car dealer Jared (Langston Kerman)?
Jared pushes her to elevate her thinking. And In Molly's mind, that can't be happening. She thinks, "How dare he be the one who elevates me, because the guy who can do that is supposed to have gone to college and gotten a corporate job!" She doesn't realize he's perfect for her. He doesn't check off those particular boxes, so she sabotages it. Self-sabotaging is her thing.
Why do you think Insecure has become so beloved so fast?
Work, love, girlfriends in the big city—those aren't new. But Insecure looks at them through a different lens. And HBO doesn't make Issa dumb down the black experience. They don't tell her how black friends talk or don't talk. They let her be specific. The show even introduces me to a different type of blackness. A lot of times people think if you go broad, you can reach a wider audience. But it's really just having watered-down juice. Give me the concentration. Give me the sugar!
What's on your DVR these days?
I'm watching too much TV. It's almost a problem. I was overseas for two weeks and I was so mad I didn't get access to FX. Better Things on that network is hysterical. Then there's Atlanta, Luke Cage, Narcos. I just engulfed Underground. I'm just like, "Is there a way I can get paid to watch TV?" [Laughs]
Insecure, airs Sundays 10:30/9:30c, HBO.
Powered by